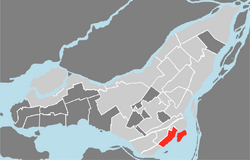 Verdun was a city of about 66,000 in Quebec, Canada. It was in the south-central part of the island of Montreal
It is now part of the city of Montreal.
Verdun (unknown nickname)
(Provincial Senior League, 1939-1940)
(Mount Royal Junior League, 1939-1940)
Mount Royal Intermediate League, 1921-1932) league renamed Mount Royal Senior League
Mount Royal Senior League, 1932-1933) join Montreal Senior Group as Maple Leafs
(Inter City League, 1936-1937)
(Quebec Semi Professional Hockey League, 2001-2003) league renamed QSMHL
(Quebec Senior Major Hockey League, 2003-2004) league renamed LNAH
(LNAH, 2004-2005) renamed Verdun-Montréal Dragons
(Quebec Senior Hockey League, 1940-1941)
(Junior Amateur Hockey Association, 1940-1941) revert to Maple Leafs name
Community content is available under
CC-BY-SA
unless otherwise noted.