The Vancouver Blazers are a defunct professional team that played two seasons in the World Hockey Association. Established in 1973 after the Philadelphia Blazers relocated, the team was moved to Calgary in 1975 to become the Calgary Cowboys.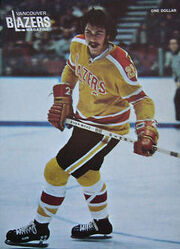 History
The Philadelphia Blazers had experienced a very difficult beginning to their inaugural season, but actually finished it off very nicely. They had on their roster some of the brightest stars of the league in André Lacroix and Danny Lawson and future National Hockey League Hall of Famer Bernie Parent and qualified for the playoffs. However, Parent, discontent, left the team during the playoffs and the team was swept in four games by the Cleveland Crusaders. After a season very rich in emotions and twists of all kind, owners Bernard Brown and James Cooper sold their team to Jim Pattison, who promptly moved it to Canada.
Pattison knew that in order to compete with the Vancouver Canucks of the NHL, who happened to share the same arena, he needed to attract a major super-star to the team as Lacroix, who had lead the league in scoring the previous year, left for the New York Golden Blades of the WHA. Pattison tried, to no avail, to sign NHL star Phil Esposito offering him $2.5 million over 5 years. Esposito decided to stay with the Bruins for less money.
The team performed horribly in their first year with a dismal record of 27-50-1. The next season, 1974–75, brought back some respectability to the team as they finished only two games below .500. But that wasn't enough to keep the team in Vancouver. After only two seasons in Vancouver, the team once again packed up their bags and moved to Calgary, Alberta, and were renamed the Calgary Cowboys. The Cowboys would be the second WHA team to attempt Calgary as the Calgary Broncos were slated to start playing there for the inaugural WHA season. The Broncos, though, never actually played a game before folding.
Season-by-season record
Blazers' season-by-season record
Season
Team Name
GP
W
L
T
PTS
GF
GA
PIM
Finish
Playoffs
1973–74
Vancouver Blazers
78
27
50
1
55
278
345
1047
5th, Western
Did not qualify
1974–75
Vancouver Blazers
78
37
39
2
76
256
270
1075
4th, Canadian
Did not qualify
All-time scoring leaders
Captains
Head coaches