The Valley Timberwolves formerly the Renfrew Timberwolves are a Canadian junior ice hockey team based out of Renfrew, Ontario. They played out of the Eastern Ontario Junior Hockey League until the league was re-branded the Central Canada Hockey League Tier 2 (CCHL2) 2015.
History
The Renfrew Jr. B Timberwolves came into existence in 1968 as the Renfrew Lions, sponsored by The Renfrew Lions Club and captured their first Eastern Ontario Championship that year.
In the early 1970s, Renfrew's Junior team became the Timberwolves and the team has since captured 4 other Eastern Ontario Titles; 1977, 1988, 1990 and 1993.
Banners on the wall at Ma-Te-Way Arena also include 8 Valley Division Titles and 4 Boxing Day Tournament Titles which all attest to the success that the team has enjoyed over the years. Not only has the team been successful as a community group, but many individual players have gone on to University, Semi-pro, or Professional Teams.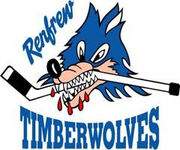 The team would be renamed from the Renfrew Timberwolves to the Valley Timberwolves prior to the 2021-22 season.
Season-by-season results
Season
GP
W
L
T
OL
GF
GA
P
Results
Playoffs
1999-00
40
25
14
1
1
168
131
53
1st EO Valley
Lost Semi-final
2000-01
45
29
18
2
1
194
185
61
2nd EO Valley
Lost Division Final
2001-02
40
19
18
3
1
190
184
42
2nd EO Valley
Lost Preliminary
2002-03
40
11
25
4
2
128
219
28
5th EO Valley
Lost Preliminary
2003-04
40
18
18
4
0
151
177
40
4th EO Valley
Lost Division S-final
2004-05
40
14
22
2
2
130
168
32
5th EO Valley
Lost Preliminary
2005-06
40
20
18
0
2
148
157
42
2nd EO Valley
Lost Preliminary
2006-07
40
18
18
3
1
175
158
40
4th EO Valley
Lost Preliminary
2007-08
40
11
25
4
0
147
202
26
5th EO Valley
Lost Preliminary
2008-09
40
10
23
6
1
141
220
27
6th EO Valley
2009-10
45
21
20
2
2
177
170
46
3rd EO Valley
Lost Division Final
2010-11
42
20
18
4
0
170
157
44
4th EO Valley
Lost Semi-Final
2011-12
42
16
23
3
0
157
190
35
4th EO Valley
2012-13
42
20
19
-
3
146
162
43
2nd EO Valley
Lost Semi-final
2013-14
41
24
13
-
4
181
151
52
1st EO Valley
Lost Division Final
2014-15
40
27
9
-
4
183
144
58
1st EO Valley
Won Div. Semi-finals, 4-2 (Pontiacs)
Lost Div. Final, 0-4 (Rams)
CCHL 2
Season
GP
W
L
OL
SL
GF
GA
Pts
Results
Playoffs
2015-16
44
18
24
2
0
183
208
38
6th of 8 Richardson
12th of 16 CCHL2
Did Not Qualify
2016-17
48
8
36
4
0
123
194
20
8th of 8 Richardson
16th of 16 CCHL2
Did Not Qualify
2017-18
52
24
23
5
0
196
211
53
5th of 8 Richardson
10th of 16 CCHL2
Won Wildcard, 2-0 (Aeros)
Lost Div. Final, 3-4 (Carleton Place Jr. Canadians)
2018-19
43
21
20
1
1
165
187
44
5th Richardson
Won Wildcard, 1-2 (Jr. Canadiens
2019-20
44
25
14
1
4
167
137
55
4th Richardson
Lost Wildcard 1-2 (Packers)
2020-21
Season cancelled due to COVID-19 pandemic
2021-22
40
7
30
3
0
93
212
17
8th Richardson
Did not qualify
External links