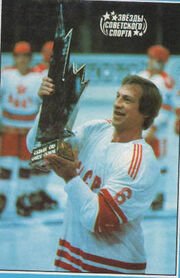 Valeri Ivanovich Vasiliev (Валерий Иванович Васильев) (born August 3, 1949 in Gorky, USSR) was a Russian ice hockey defenceman, who competed for the USSR. An eight-time Soviet all-star, Vasiliev was captain of the national team, for which he played 13 years. He played for HC Dynamo Moscow.
Vasiliev played on nine Soviet gold medal teams at the IIHF World Championships. He was named the tournament's best defenceman in 1973, 1977, and 1979 and was a five-time all-star. He was on the gold medal team at the 1972 and 1976 Winter Olympics, as well as at the 1981 Canada Cup. He also played in the 1972 Summit Series, 1976 Canada Cup, and 1980 Winter Olympics. He termed the phrase "kiss the ice" after winning in 1972 Winter Olympics.
In 1978 Vasiliev was awarded the Order of the Red Banner of Labour.
External links
[
]