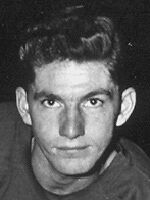 Val Delory (born February 14, 1927 in Toronto, Ontario) was a professional left wing who played one game for the New York Rangers in the 1948-49 NHL season.
He played Junior "B" hockey for the Toronto Victory Aircraft in 1944-45 and then moved up to Junior "A", first with the St. Catharines Falcons and then the Hamilton Szabos.
Delory then joined the New York Rovers of the Eastern Hockey League (EHL) in 1947-48 and earned his callup to the Rangers in the next season. In 1949-50 he was the leading scorer in the EHL.
He played four more seasons in the minor pros before retiring in 1953.