The indoor Vaillant Arena
with the outdoor Eisstadion Davos

Location
Kurgartenstrasse, CH - 7270 Davos Platz
Built
1979
Opened
1979
Renovated
1981, 1998, 2005, 2006
Owner
City of Davos
Operator
Davos Tourismus
Tenants
HC Davos
Capacity
7,080
Vaillant Arena (Eisstadion Davos) is a stadium in Davos, Switzerland. It is primarily used for ice hockey and is the home arena of HC Davos. It holds 7,080 people, of which 3,280 are seated. Every year the Spengler Cup is played in this stadium.
The open natural ice rink beside the stadium, Eisstadion Davos, was in the past (up until 1997) the venue for many international speed skating events and many speed skating world records have been broken here. It still continues to be used for Swiss Championships in speed skating. It is an outdoor, natural, ice rink (as opposed to ice rinks that are indoor and/or use artificial ice) and lies 1,560 metres (almost one mile) above sea level.
For the high velocities achieved in speed skating, high altitudes are favorable due to lower air drag, and since the ice conditions produced were also often very favorable, many World Records were set in Davos, beginning with Peder Østlund who set four records in 1898. The arena also had a reputation for variable conditions, the sun or warm winds could play havoc with ice conditions throughout a championship.
In the beginning of the 20th century HC Davos played on an open ice rink. Around 1970 was a first try to cover the ice rink by a wooden construction. Soon after the work began the project was stopped because of a financial gap.
As in 1979 HC Davos was qualified for the Nationalliga A a covered rink was necessary and the tricky wooden construction was finished. During the season 1980/81 the sides were still open. One year later the Stadium was closed by big glass panes.
In 1998 the west tribune was renovated and instead of a big standing area a tribune with plastic seats on two levels was build. The stadium held then 7680 people.
In summer 2005 a new, modern tribune including the restaurant "Nordside", VIP rooms, a sector for sponsors and changing rooms was built in the northern sector. The capacity was reduced to 7080 people. The renovation continued in 2006 with small invests in the security of the southern and eastern tribune and screens for advertising.
In January 2007 the indoor ice-hockey rink was renamed in Vaillant Arena because the famous heating technician Vaillant paid three million Swiss franc to future plans of renovating the stadium this year.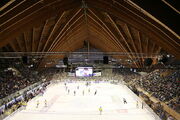 Community content is available under
CC-BY-SA
unless otherwise noted.