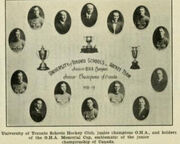 The University of Toronto Schools is a private secondary school located on the campus of the University of Toronto in Toronto, Ontario, Canada.
It had a junior team in the Ontario Hockey Association for many years. Its most noteworthy hockey accomplishment was the winning of the first Memorial Cup in 1919.
One player from the school went on to play in the NHL - Dunc Munro.