For the defunct leagues of the same name, please see United States Hockey League (1945–1951) and United States Hockey League (1961-1979).
The United States Hockey League (USHL) is the top junior ice hockey league in the United States. The USHL has 14 member teams located in the midwestern United States, consisting of players who are 20 years of age and younger. The USHL is strictly amateur, allowing former USHL players to compete in NCAA college hockey. The league is based out of Chicago, IL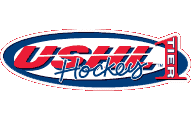 See also: List of USHL Seasons.
Operations
The USHL is the country's top junior hockey league, classified as Tier I. Like comparable entities such as the Canadian Hockey League (CHL)'s three member leagues, the USHL offers a schedule of high-level, competitive games for top players aged 16 to 20. Unlike the CHL, it does not pay a stipend to its players, who thus retain amateur status and are eligible to play in the NCAA.[1]
USHL teams, which are typically located in mid-sized cities (see map of team locations), pay for all uniforms and equipment. Players live with local families, who receive a small stipend for food expenses, and either continue school or work part-time jobs. Due to their schedules, more than 90% of games are on weekends, which many NHL and college scouts attend. Average attendance at regular season games for the 2014-15 season was 2,715 with 1,384,820 fans attending games during the season. [2]
One hockey analyst stated that the USHL's first line players are as good as their counterparts in the CHL—historically an important producer of NHL players—but that the Canadian league has better third and fourth lines. In 2006, Trevor Lewis, the 17th pick in the NHL Entry Draft, was the first USHL player to sign an NHL contract immediately after playing in the league.
At the conclusion of the 2014-15 regular season, the USHL has tallied 251 Alumni that have played in the NHL and has 347 current players with NCAA College Commitments.[3]
Draft
The USHL Draft is an annual event conducted in two "phases" during the second week of May.[4] The first phase is an eight round draft of U-17 players for the upcoming season. The second phase of the draft is open to all players eligible to play junior hockey who are not already protected by a USHL team. The number of players drafted varies, as each team will draft until they have filled the 45 spots available on their roster. Undrafted players are open to try out for any team as a try-out player. Each team must reduce their roster to 23 players for the start of the season, but may carry 18 additional players on an affiliate list.[5]
United States Hockey League (1961-1979)
The United States Hockey League (USHL) operated as a senior ice hockey league 1961 to 1979.[6]
The USHL welcomed the first female professional hockey player in 1969-70, when the Marquette Iron Rangers signed Karen Koch.[7]
By the late 1970s, the USHL had fallen on hard times. In the summer of 1977, clubs from the recently folded Midwest Junior Hockey League contacted the USHL. A unique merger was formed, with the three junior teams (Bloomington Junior Stars, Austin Mavericks, St. Paul Vulcans) and three remaining pro teams (Sioux City Musketeers, Waterloo Black Hawks, Green Bay Bobcats) gathered under the USHL banner. League governors decided on a two-division format, with the junior-aged teams in the Midwest Division and the professionals in the U.S. Division. The teams played an interlocking schedule that was, predictably, dominated by the professionals. The USHL's split existence would last just two seasons. The minor-pro wing of the league folded following the 1978-79 season, providing junior hockey operators with the opportunity to redefine the circuit. The 1979-80 season was the league's first as an entirely junior arrangement.[8]
The league's last season as a senior hockey league was 1978-79. During this final season the league comprised seven teams in two conferences. The U.S. Conference (with the Green Bay Bobcats, the Sioux City Musketeers and the Waterloo Black Hawks); while the Midwest Conference (with the Anoka Nordiques, the Austin Mavericks, the Bloomington Junior Stars, and the St. Paul Vulcans. All seven teams were made up with players categorized as "Senior Amateur".[9][10][11][12][13][14][15] Following the 1978-79 season the senior league teams in the U.S. Conference folded and the USHL became an all-junior league the following season.[16]
Teams
Eastern Conference

Team
Founded
Arena
City
Cedar Rapids RoughRiders
1983
Cedar Rapids Ice Arena
Cedar Rapids, Iowa
Chicago Steel
1996
Fox Valley Ice Arena
Geneva, Illinois
Dubuque Fighting Saints
2010
Mystique Ice Center
Dubuque, Iowa
Green Bay Gamblers
1994
Resch Center
Green Bay, Wisconsin
Madison Capitols
2014
Bob Suter's Capitol Ice Arena
Madison, Wisconsin
Muskegon Lumberjacks
2010
L. C. Walker Arena
Muskegon, Michigan
USA Hockey National Team Development Program
1996
USA Hockey Arena
Plymouth, Michigan
Youngstown Phantoms
2003
Covelli Centre
Youngstown, Ohio

Western Conference

Team
Founded
Arena
City
Des Moines Buccaneers
1980
Buccaneer Arena
Urbandale, Iowa
Fargo Force
2008
Scheels Arena
Fargo, North Dakota
Lincoln Stars
1996
Ice Box
Lincoln, Nebraska
Omaha Lancers
1986
Ralston Arena
Ralston, Nebraska
Sioux City Musketeers
1972
Gateway Arena
Sioux City, Iowa
Sioux Falls Stampede
1999
Denny Sanford PREMIER Center
Sioux Falls, South Dakota
Tri-City Storm
2000
Viaero Event Center
Kearney, Nebraska
Waterloo Black Hawks
1962
Young Arena
Waterloo, Iowa

Dormant Teams

Team
Founded
Arena
City
Central Illinois Flying Aces
2014
Grossinger Motors Arena
Bloomington, Illinois
Indiana Ice
2004
Lyceum Pavilion
Indianapolis, Indiana
Team Timeline
Team
Centre
Arena
Seasons
Fate
Austin Mavericks
Austin, Minnesota
Riverside Arena
1979-1985
relocated to Rochester, Minnesota; renamed Rochester Mustangs (junior)
Bloomington Junior Stars
Bloomington, Minnesota
Bloomington Ice Garden
1979-1984
renamed Minneapolis Stars
Green Bay Bobcats
Green Bay, Wisconsin
Brown County Veterans Memorial Arena
1979-1981
fold
Hennepin Nordiques
New Hope, Minnesota
New Hope Ice Arena
1979-1980
relocated to Waterloo, Iowa; renamed Waterloo Black Hawks
St. Paul Vulcans
St. Paul, Minnesota
Augsburg Ice Arena
1979-1995
renamed Twin City Vulcans
Sioux City Musketeers
Sioux City, Iowa
Sioux City Municipal Auditorium (1979-2003) Fleet Farm Arena (2003-present) (known as Gateway Arena 2003-2019)
1979-present
Waterloo Black Hawks
Waterloo, Iowa
McElroy Auditorium
1979-1980
relocated to Dubuque, Iowa; renamed Dubuque Fighting Saints (1980-2001)
Des Moines Buccaneers
Urbandale, Iowa
Buccaneer Arena
1980-present
Dubuque Fighting Saints (1980-2001)
Dubuque, Iowa
Five Flags Arena
1980-2001
relocated to Tulsa, Oklahoma, renamed Tulsa Crude
Waterloo Black Hawks
Waterloo, Iowa
McElroy Auditorium (1980-1994) Young Arena (1994-present)
1980-present
North Iowa Huskies
Mason City, Iowa
North Iowa Ice Arena
1983-1999
relocated to Cedar Rapids, Iowa; renamed Cedar Rapids RoughRiders
Madison Capitols (1984-1995)
Madison, Wisconsin
Hartmeyer Ice Arena
1984-1991
renamed Wisconsin Capitols
Minneapolis Stars
Minneapolis, Minnesota
Bloomington Ice Garden
1984-1985
folded
Thunder Bay Flyers
Thunder Bay, Ontario
Fort William Gardens
1984-2000
fold
Rochester Mustangs (junior)
Rochester, Minnesota
Rochester Recreation Center
1985-2002
fold
Omaha Lancers
Omaha, Nebraska
Omaha Civic Auditorium
1986-2002
renamed River City Lancers when relocated to Council Bluffs, Iowa
Wisconsin Capitols
Madison, Wisconsin
Hartmeyer Ice Arena
1991-1995
Green Bay Gamblers
Green Bay, Wisconsin
Brown County Veterans Memorial Arena (1994-2002), Resch Center (2002-present
1994-present
Fargo-Moorhead Bears
Moorhead, Minnesota
Moorhead Sports Center
1995-1996
fold
Twin City Vulcans
Bloomington, Minnesota
Bloomington Ice Garden
1995-2000
relocated to Kearney, Nebraska; renamed
Fargo-Moorhead Ice Sharks
Fargo, North Dakota
John E. Carlson Coliseum
1996-2000
Lincoln Stars
Lincoln, Nebraska
Ice Box (arena)
1996-present
USA Hockey National Team Development Program
Ann Arbor, Michigan
Ann Arbor Ice Cube
1997-2002
withdrew to play in North American Hockey League
Cedar Rapids RoughRiders
Cedar Rapids, Iowa
Cedar Rapids Ice Arena
1999-present
Sioux Falls Stampede
Sioux Falls, South Dakota
Denny Sanford PREMIER Center
1999-present
Chicago Steel
Bensenville, Illinois
Edge Ice Arena
2000-2015
relocated to Geneva, Illinois with no name change
Tri-City Storm
Kearney, Nebraska
Viaero Event Center (known as Tri-City Arena 2000–200?
Kearney Event Center 200?–200?
FirsTier Event Center 200?–2009)
2000-present
Topeka Scarecrows
Topeka Scarecrows
Landon Arena
2001-2003
relocated to Chesterfield, Missouri'; renamed St. Louis Heartland Eagles
Tulsa Crude
Tulsa, Oklahoma
Tulsa Fairgrounds Pavilion
2001-2002
fold
River City Lancers
Council Bluffs, Iowa
Mid-America Center
2002-2004
revert to Omaha Lancers name
Danville Wings
Danville, Illinois
David S. Palmer Arena
2003-2004
relocated to Indianapolis, Indiana; renamed Indiana Ice
St. Louis Heartland Eagles
Chesterfield, Missouri
The Summit Center
2003-2004
suspend operations for 2004-05; fold after being unable to find a new arena in St. Louis area
Indiana Ice
Indianapolis, Indiana
Indiana Farmers Coliseum (2004-2012), Pan American Arena (2012-2014) and Bankers Life Fieldhouse
2004-2014
suspend operations pendiing construction of new arena; still waiting as of 2019-20 season
Omaha Lancers
Council Bluffs, Iowa
Mid-America Center
2004-2009
fold
Ohio Jr. Blue Jackets
Columbus, Ohio
Nationwide Arena
2006-2008
suspend operations; fold when unable to find suitable arena
Fargo Force
Fargo, North Dakota
Scheels Arena (known as Urban Plains Center 2008-2010)
2008-present
Youngstown Phantoms
Youngstown, Ohio
Covelli Centre
2009-present
USA Hockey National Team Development Program
Ann Arbor, Michigan (2009-2015) Plymouth, Michigan (2015-present)
Ann Arbor Ice Cube (2009-2015) USA Hockey Arena (2015-presnt)
2009-present
Dubuque Fighting Saints (2010)
Dubuque, Iowa
Mystique Ice Center
2010-present
Muskegon Lumberjacks (2010–)
Muskegon, Michigan
L.C. Walker Arena
2010-present
Bloomington Thunder (USHL)
Bloomington, Illinois
U.S. Cellular Coliseum
2014-2017
renamed Central Illinois Flying Aces
Madison Capitols (2014)
Madison, Wisconsin (2014-2017), Middleton, Wisconsin (2017-present)
Alliant Energy Center (2014-2017) Bob Suter's Capitol Ice Arena (2017-present)
2014-present
Chicago Steel
Geneva, Illinois
Fox Valley Ice Arena
2015-present
Central Illinois Flying Aces
Bloomington, Illinois
Grossinger Motors Arena
2017-2019
suspend operations
Cite error: <ref> tags exist, but no
tag was found
Awards
| | | |
| --- | --- | --- |
| Semi-Pro Season Champions | Anderson Cup Champions | |
Alumni
Selections in the top three rounds of the 2009 NHL Entry Draft
Selections in the top three rounds of the 2008 NHL Entry Draft
League records
Team
Most points in a season – 98 by Green Bay Gamblers in 2011-12 and Dubuque Fighting Saints in 2012-13
Most wins in a season – 48 by Des Moines Buccaneers in 1998–99 season.
Most losses in a season – 48 by Omaha Lancers in 1986–87 season.
Longest winning streak - 19 by Des Moines Buccaneers between November 1, 1998 and January 6, 1999.
Individual
See Also
References
External links