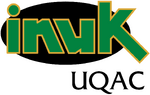 "Inuk" was the name of the sports teams of the Université du Québec à Chicoutimi, located in Saguenay, Quebec. They no longer operate top tier sports teams.
The Inuk were members of the Quebec Universities Athletic Association (QUAA), now known as the Réseau du sport étudiant du Québec (RSEQ), and the Canadian Interuniversity Athletic Union (CIAU), now known as U Sport (formerly CIS). They started in 1976-77 and remained there until 1985-86 when they folded the program.
Season-by-Season RecordsEdit
Click on the links in the "Year/Comp." column to go to the page for that season.
QUAA 1976-77 to 1985-86Edit
Note: All seasons in a one division format.

CommemorationsEdit
University CupsEdit
ChampionshipsEdit
none
under development
Alternate LogosEdit
West DivisionEdit
East DivisionEdit
Formerly Participating Universities - QuebecEdit
Community content is available under
CC-BY-SA
unless otherwise noted.