Line 27:
Line 27:
 

| [[2009-10 OUA Season|2010 OUA]] || 28 || 11 || 15 || 2 || 90 || 119 || 24 || W 8th

 

| [[2009-10 OUA Season|2010 OUA]] || 28 || 11 || 15 || 2 || 90 || 119 || 24 || W 8th

 

|- align="center" bgcolor="lavender" -

 

|- align="center" bgcolor="lavender" -

−

| [[2009-10 OUA Season#Playoffs|2010 playoffs]] || 3 || 1 || 2 || - || ? || ? || 2 || W quarters

+

| [[2009-10 OUA Season#Playoffs|2010 ]] || 3 || 1 || 2 || - || ? || ? || 2 || W quarters

 

|- align="center" bgcolor="beige" -

 

|- align="center" bgcolor="beige" -

 

| [[2010-11 OUA Season|2011 OUA]] || 28 || 12 || 12 || 4 || 82 || 100 || 28 || W 7th

 

| [[2010-11 OUA Season|2011 OUA]] || 28 || 12 || 12 || 4 || 82 || 100 || 28 || W 7th

 

|- align="center" bgcolor="beige" -

 

|- align="center" bgcolor="beige" -

−

| [[2010-11 OUA Season#Playoffs|2011 playoffs]] || 3 || 1 || 2 || - || ? || ? || 2 || W quarters

+

| [[2010-11 OUA Season#Playoffs|2011 ]] || 3 || 1 || 2 || - || ? || ? || 2 || W quarters

 

|- align="center" bgcolor="lavender" -

 

|- align="center" bgcolor="lavender" -

 

| [[2011-12 OUA Season|2012 OUA]] || 28 || 6 || 21 || 1 || 86 || 138 || 13 || W 9th

 

| [[2011-12 OUA Season|2012 OUA]] || 28 || 6 || 21 || 1 || 86 || 138 || 13 || W 9th

Line 37:
Line 37:
 

| [[2012-13 OUA Season|2013 OUA]] || 28 || 11 || 16 || 1 || 92 || 112 || 23 || W 8th

 

| [[2012-13 OUA Season|2013 OUA]] || 28 || 11 || 16 || 1 || 92 || 112 || 23 || W 8th

 

|- align="center" bgcolor="beige" -

 

|- align="center" bgcolor="beige" -

−

| [[2012-13 OUA Season#Playoffs|2013 playoffs]] || 2 || 0 || 2 || - || ? || ? || 0 || W quarters

+

| [[2012-13 OUA Season#Playoffs|2013 ]] || 2 || 0 || 2 || - || ? || ? || 0 || W quarters

 

|- align="center" bgcolor="lavender" -

 

|- align="center" bgcolor="lavender" -

 

| [[2013-14 OUA Season|2014 OUA]] || 28 || 8 || 16 || 4 || 64 || 111 || 20 || E 7th

 

| [[2013-14 OUA Season|2014 OUA]] || 28 || 8 || 16 || 4 || 64 || 111 || 20 || E 7th

 

|- align="center" bgcolor="lavender" -

 

|- align="center" bgcolor="lavender" -

−

| [[2013-14 OUA Season#Playoffs|2014 playoffs]] || 2 || 0 || 2 || - || ? || ? || 0 || E quarters

+

| [[2013-14 OUA Season#Playoffs|2014 ]] || 2 || 0 || 2 || - || ? || ? || 0 || E quarters

 

|- align="center" bgcolor="beige" -

 

|- align="center" bgcolor="beige" -

 

| [[2014-15 OUA Season|2015 OUA]] || 26 || 10 || 15 || 1 || 73 || 106 || 21 || E 7th

 

| [[2014-15 OUA Season|2015 OUA]] || 26 || 10 || 15 || 1 || 73 || 106 || 21 || E 7th

 

|- align="center" bgcolor="beige" -

 

|- align="center" bgcolor="beige" -

−

| [[2014-15 OUA Season#Playoffs|2015 playoffs]] || 2 || 0 || 2 || - || ? || ? || 0 || E quarters

+

| [[2014-15 OUA Season#Playoffs|2015 ]] || 2 || 0 || 2 || - || ? || ? || 0 || E quarters

 

|- align="center" bgcolor="lavender" -

 

|- align="center" bgcolor="lavender" -

 

| [[2015-16 OUA Season|2016 OUA]] || 28 || 18 || 8 || 2 || 94 || 93 || 38 || E 4th

 

| [[2015-16 OUA Season|2016 OUA]] || 28 || 18 || 8 || 2 || 94 || 93 || 38 || E 4th

 

|- align="center" bgcolor="lavender" -

 

|- align="center" bgcolor="lavender" -

−

| [[2015-16 OUA Season#Playoffs|2016 playoffs]] || 5 || 2 || 3 || - || ? || ? || 4 || E semis

+

| [[2015-16 OUA Season#Playoffs|2016 ]] || 5 || 2 || 3 || - || ? || ? || 4 || E semis

 

|- align="center" bgcolor="beige" -

 

|- align="center" bgcolor="beige" -

 

| [[2016-17 OUA Season|2017 OUA]] || 28 || 16 || 11 || 1 || 88 || 83 || 33 || E 7th

 

| [[2016-17 OUA Season|2017 OUA]] || 28 || 16 || 11 || 1 || 88 || 83 || 33 || E 7th

 

|- align="center" bgcolor="beige" -

 

|- align="center" bgcolor="beige" -

−

| [[2016-17 OUA Season#Playoffs|2017 playoffs]] || 3 || 1 || 2 || - || 8 || 8 || 2 || E quarters

+

| [[2016-17 OUA Season#Playoffs|2017 ]] || 3 || 1 || 2 || - || 8 || 8 || 2 || E quarters

 

|- align="center" bgcolor="lavender" -

 

|- align="center" bgcolor="lavender" -

 

| [[2017-18 OUA Season|2018 OUA]] || 28 || 15 || 9 || 4 ||81|| 78 ||34 || E 6th

 

| [[2017-18 OUA Season|2018 OUA]] || 28 || 15 || 9 || 4 ||81|| 78 ||34 || E 6th

 

|- align="center" bgcolor="lavender" -

 

|- align="center" bgcolor="lavender" -

−

| [[2017-18_OUA_Season#Playoffs|2018 playoffs]] || 2 || 0 || 2 || - || 3 || 7 || 0 || E quarters

+

| [[2017-18_OUA_Season#Playoffs|2018 ]] || 2 || 0 || 2 || - || 3 || 7 || 0 || E quarters

 

|- align="center" bgcolor="beige" -

 

|- align="center" bgcolor="beige" -

−

| [[2018-19_OUA_Season|2019 OUA]] || - || - || - || - || - || - || - || -

+

| [[2018-19_OUA_Season|2019 OUA]] || || || || || || || ||

 
+

|- align="center" bgcolor="beige" -

 
+

| [[2018-19 OUA Season#Playoffs|2019 Playoffs]] || || || || || || || ||

 

|}

 

|}

 

''Notes:''

 

''Notes:''
---
Revision as of 09:52, 11 February 2019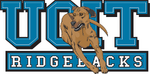 "Ridgebacks" is the name of the sports teams of the University of Ontario Institute of Technology (UOIT) located in Oshawa, Ontario. They are members of Ontario University Athletics (OUA) and U Sports (formerly known as CIS).
History
The University of Ontario Institute of Technology was founded in 2002. The UOIT Ridgebacks have been competing in the OUA since 2006 and have been a member of CIS since 2008. The UOIT Ridgebacks hockey team joined the OUA conference in 2007-08.
Season-by-Season Records
Click on the links in the "Year/Comp." column to go to the page for that season.
Notes:
2007-08 four division format in use: Far East, Mid East, Mid West, and Far West.
2009-10 returned to the two division format: East and West.
E means East division,
MW means Mid East division.
W means West division.
Commemorations
University Cups
none
Championships
none
Pictures
Alternate Logos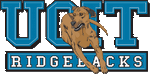 Links
West Division
East Division
Also see
Community content is available under
CC-BY-SA
unless otherwise noted.