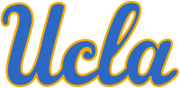 The UCLA Bruins is the name of the athletic teams representing the University of Califonia, Los Angeles in Los Angeles, California. The team primarily used the Palais de Glace (Los Angeles) from 1926 until it was destroyed by fire in September of 1934. The team played at the Glacier Place from 1934-35 to 1937-38. The team would call the Tropical Ice Gardens as its home from 1937-38 until the program ended along with a Pacific Coast Conference's hockey league in 1949. The team occassionaly used the Pan Pacific Auditorium in Los Angeles as its' alternate home from 1938-39 on.
The University had ice hockey teams from 1924 to 1949. The team was a member of the Pacific Coast Conference which existed from 1915 to 1959 as an all-sport conference and during several of those years teams played ice hockey. It is a direct ancestor of the present day PAC-12 conference. The team was also a member of the Southern California Hockey Association from 1938 to 1941.
The university presently has a club team which plays in the Pac-8 conference as an ACHA Division II program.
Community content is available under
CC-BY-SA
unless otherwise noted.