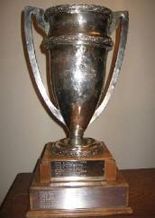 The Turnbull Memorial Trophy commonly referred to as the Turnbull Cup, was first awarded in 1920 to the Manitoba Junior Hockey Champion. Then starting in 1933 to the Manitoba Junior "A" Hockey Champion. And with the creation of the Canadian Junior A Hockey League in 1993, to the Champions of the Manitoba Junior Hockey League.

Since the change to Junior "A" in 1933, the MJHL and it's predecessor the Winnipeg and District Junior Hockey League have directly crowned a Manitoba Champion all but eleven years.

The Winnipegs donated the Turnbull Memorial Trophy to the Manitoba Amateur Hockey Association in memory of Army Captain W. J. (Ollie) Turnbull who died in active service in World War I. He was a member of the team when they won the Senior Hockey Championship of Canada in 1913.
Challenge Years
Edit
This is a list of years in which the Manitoba Amateur Hockey Association sanctioned a playoff series
between the MJHL champion and the champion of another Manitoba junior league for the Turnbull Cup.
Note: click on "Year" for game by game results.
Turnbull Cup Champions
Edit
Note: Years highlighted are when provincial playoffs occurred. Click on for game by game results.
For all other years see List of MJHL Seasons.
Championship Rosters
Edit