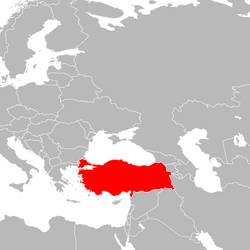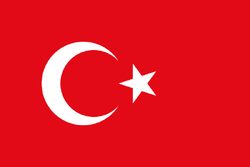 Turkey is a country in southeastern Europe and western Asia.
It has a population of about 72,000,000. The capital is Ankara.
Turkey

Info

Rinks

Players

Referees

85

Population

72,561,312

Indoor

2

Total

790

Male

--

Capital

Ankara

Outdoor

0

Male

310

Female

--

IIHF Since

May 1 1991


Junior

320

Female

160
The Turkish men's national ice hockey team is the national ice hockey team of Turkey, and is controlled by the Turkish Ice Hockey Federation (Turkish: Türkiye Buz Hokeyi Federasyonu, TBHF), a member of the International Ice Hockey Federation. It is currently ranked 41st in the IIHF's 2008 world final ranking list.
The Turkish Ice Sports Federation, formerly known as the Turkish Skating and Skiing Union, was created in 1991. It governs ice Hockey in Turkey. There is a Turkish League. The national championship was first played in 1992.

Turkey competed in the C2 pool of the world championships in 1992.
Turkey participated in the 2002 World Championships ranking last (6th) in the Division II Group A played in Cape Town, South Africa between March 31 and April 6.
The national team placed last (3rd) place at the next championships in Division III in Auckland, New Zealand April 3–6, 2003.
Turkey finished in 2nd place in the 2004 Division III World Championships held March 16–21 in Reykjavík, Iceland, thereby earning promotion to Division II for 2005 championships.
However, a last place in Division II Group A played April 10–16, 2005 in Zagreb, Croatia relegated them back to Division III in 2006.
Turkey's national team was again promoted to Division II after finishing 2nd in the Division III Group A at the 2006 World Ice Hockey Championships held April 24–29 in Reykjavík, Iceland.
Turkey competed in the Division II Group A at the 2007 World Ice Hockey Championships tournament held in Zagreb, Croatia from April 11 through April 17, 2007, where they once again finished last to be demoted back to division III.
The national team placed 4th at the 2008 IIHF World Championship - Division III held from March 31 – April 4, 2008 in Luxembourg City, Luxembourg.
The national team's head coach is James MacEachern from Canada. His assistant is Tarık Göçmen.
National Teams
Leagues
Turkish Ice Hockey League (

)
Turkish Ice Hockey League Division 1 (

)

Women's