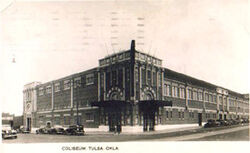 The Tulsa Coliseum is a historic indoor arena built in Tulsa, Oklahoma at the corner of Fifth Street and Elgin Avenue. Construction began on the building in 1925. The building was destroyed by fire apparently caused by a lightning strike on September 20, 1952. It hosted the Central Hockey League's Tulsa Oilers from 1945 to 1951. The arena held 4,502 people.
The arena was the original home of the Tulsa Oilers who played their first game there on January 1, 1929 against the Duluth Hornets. That event not only officially opened the Coliseum, but also served as an introduction to ice hockey for the city of Tulsa. The facility boasted a $25,000 organ.
Wrestling promoter Sam Avey was the owner of the Tulsa Oilers hockey club in the 1940s. At the time, the Oilers were affiliated with the United States Hockey League. In 1942, he acquired the Tulsa Coliseum for $185,000, and it was known affectionately as Avey's Coliseum. It regularly hosted prestigious political events and sporting events, such as ice hockey, boxing, and wrestling matches.
Avey also owned the radio station KAKC, and it broadcast from the Coliseum basement. On September 20, 1952, the building was burned as it was struck by lightning. The building's wooden roof accelerated the fire.