Paul E. Tsongas Arena
Location
300 Martin Luther King Jr. Way
Lowell, MA 01852
Broke ground
1996
Opened
January 27, 1998
Owner
Arena and Civic Stadium Commission
Operator
SMG
Surface
200x85 ft. (hockey)
Construction cost
$28 million
Tenants
Lowell Devils (AHL)
UMass-Lowell River Hawks Men's Hockey
Capacity
6,500 (hockey and basketball)
7,800 (concerts)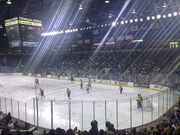 Paul E. Tsongas Arena (usually referred to as just Tsongas Arena) is a multi-use indoor sport and concert venue in Lowell, Massachusetts. The Arena was opened and dedicated to the memory of prominent local and national politician Paul Tsongas on January 27 1998.
The arena was built with funding from both the city and the university – $4 million from each – plus another $20 million contributed from the state of Massachusetts largely in support of UMass.
The facility is home to the AHL Lowell Devils ice hockey team, who play in the Atlantic Division. The facility is also home to the UMass Lowell River Hawks Division I hockey team who compete in Hockey East.
Tsongas Arena also hosts concerts and other public events, including the graduations of several local high schools. Hockey seating capacity is approximately 6,500 while concert seating capacity is approximately 7,800.
Partnership issues have left the University and City in a dispute. UMass claims that the City of Lowell has treated the University like a tenant and not like a partner. The University claims this is contrary to the spirit of the original capital put up by both parties when the arena was originally funded.
Recently UMass Lowell and the City of Lowell have been in negotiations to transfer ownership of the arena and the land adjacent to it to the University. In late October 2009, it has been reported that the deal has been perfected, with UMass Lowell comitting to $5 million in repairs to the facility.
External links
[
]
References
[
]