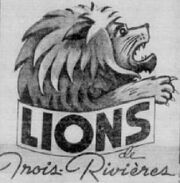 The Trois Rivieres Lions were a minor professional team formed in 1955 in Trois-Rivières, Quebec.
They became a member of the Quebec Hockey League in 1955 replacing the Valleyfield Braves who had just folded. There was a gap in the city after the Quebec Junior Hockey League folded. The Lions replaced that league's Trois Rivieres Flambeaux.
After the Quebec Hockey League folded in 1959, the Lions moved to the newly formed Eastern Professional Hockey League. After only one season, poor attendance forced a move to become the Kitchener-Waterloo Beavers.
In the Quebec Hockey League, the Lions were a farm team of the Chicago Black Hawks. In the Eastern Professional Hockey League, they were sponsored by the New York Rangers.
The city had another team with the same name that played in the Eastern Townships League for the 1960-61 season
Season-by-Season Records
Edit
Season
Games
Won
Lost
Tied
Points
Goals
for
Goals
against
Standing
Playoffs
1955-56
64
18
44
2
38
159
250
5th
out of playoffs
1956-57
68
29
32
7
65
168
197
3rd
Lost Semi Final
1957-58
64
24
35
5
53
176
215
5th
out of playoffs
1958-59
62
30
29
3
63
194
184
2nd
Lost Final
Season
Games
Won
Lost
Tied
Points
Goals
for
Goals
against
Standing
Playoffs
1959-60
70
30
31
9
69
226
235
4th
Lost Semi Final
Season
Games
Won
Lost
Tied
Points
Goals
for
Goals
against
Standing
Playoffs
1960-61
30
9
20
1
19
-
-
4th
Lost Semi Final