Overview
"Spartans" is the name of the sports teams from Trinity Western University (TWU), located in Langley, British Columbia. TWU is in the British Columbia Intercollegiate Hockey League (BCIHL) and have been since its inception in 2005-06.
In other sports, TWU is a member of the Canada West Universities Athletic Association (CWUAA) and U Sports (formerly known as CIS), however have never participated in the men's or women's hockey leagues. They are slated to join the CWUAA hockey league in 2020-21.

TWU Titans
The team was known as the "Titans" through the 2009-10 season, at which time they were granted full varsity status and adopted the "Spartans" name and logo.
See Wikipedia story on the Titans.
Season-by-Season Records Table
Note: Until 2011-12 there were tie games in the regular season and a playoff tournament was held.
Note: From 2012-13 onwards the top 4 teams qualified for best-of-three semi-finals and all regular season games were decided by overtime or shootout.
Commemorations
Championships
Unofficial: 2005 (before founding of league)
BCIHL: 2006, 2018, 2019
Pictures
Alternate Logos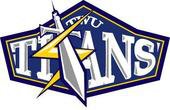 Also see
College links
BCIHL Teams
Selkirk College Saints (PWAA - CCAA)
Simon Fraser Clan (GNAC - NCAA)
Trinity Western Spartans (CWUAA - CIS)
Vancouver Island Mariners (PWAA - CCAA)
Victoria Vikings (CWUAA - CIS)
Former Teams
University Links
External Links
Community content is available under
CC-BY-SA
unless otherwise noted.