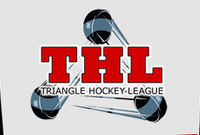 This article is about the modern Triangle Hockey League, for the previous version of the league, please see Triangle Hockey League (1951-1958).
The Triangle Hockey League was a senior hockey league that is based in Saskatchewan and started in 1965-66. The league ceased to exist in 2020 when the Sask East Hockey League formed.
Word started to circulate that the league folded on May 10, 2020. A posting made by the website administrator of the Sask Wicked Deadly fan board said that the league was officially done.[1] It was confirmed on May 19th, 2020 when the league posted on its facebook page that the league was dissolved after a meeting held on May 9th.[2] Four of the five members (all except Ochapowace), with 3 new communities formed the Sask East Hockey League for the 2020-21 season. Ochapowace would help form the Saskatchewan Treaty Hockey League which had planned to start with 2020-21 but was pushed back to 2021-22 due to organizational obstacles due to the COVID-19 pandemic.
Member Teams
Withdrew
Playoff Champions
Seasons
References