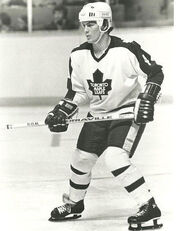 Trevor Johansen (born March 30, 1957 in Thunder Bay, Ontario) is a retired professional ice hockey player who played 286 games in the National Hockey League. He played for the Toronto Maple Leafs, Colorado Rockies, and Los Angeles Kings.
He started out with the junior Westfort Hurricanes in 1973-74 and switched to the Toronto Marlboros the following season, winning the Memorial Cup. He was on the St. Catharines Fincups team that won a silver medal at the 1977 World Junior Championship.
Johansen was drafted was drafted 12th overall by the Toronto Maple Leafs in the 1977 NHL Amateur Draft. He played two seasons in Toronto and then was traded to the Colorado Rockies for Paul Gardner.
He was a strong player for the weak Rockies but had to deal with two injured knees. He switched to the Los Angeles Kings and back to the Leafs but inujries forced his retirement in 1983,
Johansen played in 286 NHL games and scored 11 goals and 46 assists.
External links