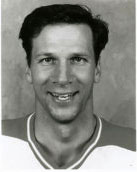 Trent Yawney (born September 29, 1965 in Hudson Bay, Saskatchewan, Canada) is a retired defenceman, a former head coach of the NHL Chicago Blackhawks, a former professional scout for the Anaheim Ducks, and currently an assistant coach with the San Jose Sharks of the NHL.
Yawney was drafted by the Chicago Blackhawks in the 1984 NHL Entry Draft, Third Round, Forty-fifth Overall. He played for the WHL's Saskatoon Blades from 1982-85. He then joined the Canadian National Team and played for them from 1985 through the 1988 Olympics.
After that he turned pro with the Chicago Black Hawks. Yawney played twelve NHL seasons in total with the Hawks, Calgary Flames, and St. Louis Blues. He retired in 1999 while he was back with the Hawks.
Yawney played 593 NHL games and scored 27 goals and 102 assists.
Yawney was an assistant coach of the Chicago Blackhawks during the 1999–00 NHL season then head coach of the American Hockey League Norfolk Admirals from 2000 to 2005. On November 27, 2006 Yawney was let go and replaced by former player and assistant coach with the Blackhawks Denis Savard, who led the Blackhawks in a 10 game losing streak.
NHL Coaching Statistics
                   Regular Season
Season   Team       W  L OT/SOL
2005-06  Chicago    26 43 13
2006-07  Chicago     7 12  2

Total Record - NHL  33 55 15
External links
]