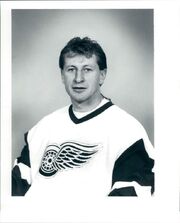 Torrie Andrew Robertson (born August 2, 1961 in Victoria, British Columbia) is a retired Canadian ice hockey player who played for the Washington Capitals, Hartford Whalers and Detroit Red Wings of the National Hockey League.
Drafted in the 1980 NHL Entry Draft by the Washington Capitals, Robertson was traded to the Hartford Whalers in 1983. Primarily known as an enforcer, he is the Whalers' all-time penalty minutes leader with 1368 penalty minutes.
Torrie Robertson swept through his junior career with the Victoria Cougars of the WHL like a hurricane who could score and fight at the same time. Between 1978 and 1981, he racked up a blend of penalty minutes and points that tended to pique the interest of NHL teams in the hunt for power forwards.
He was selected by the Washington Capitals in 1980 but never really caught on during his three seasons with the club. He spent plenty of time either warming the bench or playing in the AHL with the Hershey Bears. His frustration grew as he found it difficult to improve with such limited ice time being offered.
In 1983, he was liberated in a trade that sent him to the Hartford Whalers. Once settled with his new team, Robertson went to work to shed the goon image that tended to accompany his role. He hopped onto a line with Greg Malone and Bobby Crawford and for the first time in his NHL career, began to put up some offensive numbers to complement his penalty minutes.
But his momentum came to a crashing halt after a fight with the Montreal Canadiens' Shayne Corson in 1986. Roberston fell to the ice and broke two bones in his leg. As a result, he missed the remainder of the young season. From then on, he struggled to regain his earlier form. He was traded to the Detroit Red Wings midway through the season that followed. In the Motor City, Robertson plodded along for a year and a half before being demoted to play for the Adirondack Red Wings of the AHL.
In 1990-91, he picked up a couple of games with the Rochester Americans and Albany Choppers before hanging up his blades for good.
External links
Edit
Community content is available under
CC-BY-SA
unless otherwise noted.