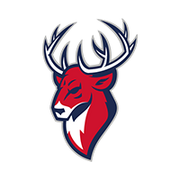 Torpedo Nizhny Novgorod (Russian: Торпедо Нижний Новгород) is a professional ice hockey club in Nizhny Novgorod, Russia. It is a member of the Kharlamov Division in the Kontinental Hockey League.
The team's home arena is Trade Union Sport Palace. The team used to play its home games at Konovalenko Sports Palace, named after Viktor Konovalenko – one of the most famous Soviet goaltenders, who played for Torpedo.
History
The first official ice hockey tournament in Gorky (the Communist-era name of Nizhny Novgorod) took place in early 1947, when the team was the winner of the first Avtozavodtsev Cup. In the 1947–48 season, the team was in the national championship. It was the official sports club of the submarine service of the Soviet Navy.
The 1960–61 season was the most significant in the history of Torpedo, with the team winning the Avtozavodtsev Cup and the Soviet Sport Cup, reaching the final of the Cup of the Soviet Union, and finally winning the silver medal in the national championship. Torpedo was the first provincial team to place in the USSR championship in 1961. Gorkovchan's success that year is attributed, primarily, to head coach Dmitry Boginova, who managed to create a strong and cohesive team in just a few years. Goalie Konovalenko was later a two-time Olympic champion and eight-time world champion.
Twice the team fell just short of the bronze in 1982 and 1985. In the 1980s, Gorky twice won the Thunderstorm Authority prize. The Torpedo players in those years were constantly being called to different teams, with some seasons including the loss of up to ten players to other teams.
In the championships of the MHL, RHL and Russia, which have been held since the Soviet collapse, Torpedo has not achieved significant success, with the best year in 1995, when the team placed fourth in the playoffs of the MHL championship.
Season-by-season KHL record
Note: GP = Games played, W = Wins, OTW = Overtime Wins, OTL = Overtime Losses, SOW = Shootout Wins, SOL = Shootout Losses, L = Losses, GF = Goals for, GA = Goals against, Pts = Points
Season
GP
W
L
OTL
Pts
GF
GA
Finish
Top Scorer
Playoffs
2008–09
56
24
24
1
84
162
162
3rd, Chernyshev
Pavel Brendl (50 points: 35 G, 15 A; 56 GP)
Lost in preliminary round, 0-3 (Metallurg Magnitogorsk)
2009–10
56
22
27
4
75
154
163
4th, Tarasov
Pavel Brendl (37 points: 27 G, 10 A; 51 GP)
Did not qualify
2010–11
54
18
25
2
73
144
151
5th, Tarasov
Matt Ellison (50 points: 21 G, 29 A; 53 GP)
Did not qualify
2011–12
54
24
17
2
91
157
132
1st, Tarasov
Martin Thörnberg (39 points: 20 G, 19 A; 49 GP)
Lost in Conference Semifinals, 2-4 (Dynamo Moscow)
2012–13
52
19
23
4
69
142
146
6th, Tarasov

Dmitri Makarov

(43 points: 13 G, 30 A; 52 GP)
Did not qualify
2013–14
54
32
17
5
91
153
121
3rd, Kharlamov
Sakari Salminen (48 points: 18 G, 30 A; 54 GP)
Lost in Conference Quarterfinals, 3-4 (Salavat Yulaev Ufa)
2014–15
60
30
22
8
90
153
144
4th, Tarasov
Sakari Salminen (47 points: 18 G, 29 A; 60 GP)
Lost in Conference Quarterfinals, 1-4 (SKA St. Petersburg)
2015–16
60
33
16
11
100
163
137
5th, Tarasov
Kaspars Daugaviņš (35 points: 14 G, 21 A; 44 GP)
Lost in Conference Semifinals, 1-4 (CSKA Moscow)
2016–17
60
32
18
7
104
145
124
4th, Tarasov

Dmitri Semin

(32 points: 14 G, 18 A; 60 GP)
Lost in Conference Quarterfinals, 1-4 (Dynamo Moscow)
2017–18
56
29
19
8
89
116
127
3rd, Tarasov

Egor Dugin

(29 points: 12 G, 17 A; 52 GP)
Lost in Conference Quarterfinals, 0-4 (Lokomotiv Yaroslavl)
2018–19
62
27
25
10
64
176
193
4th, Kharlamov
Andrew Calof (41 points: 22 G, 19 A; 58 GP)
Lost in Conference Quarterfinals, 3-4 (Barys Astana)
2019–20
62
29
27
6
64
165
167
4th, Tarasov
Jordan Schroeder (41 points: 19 G, 22 A; 60 GP)
Lost in Conference Quarterfinals, 0-4 (CSKA Moscow)
Players
Current roster
Updated September 16, 2010 [1][2]

#
Nat
Player
Pos
S/G
Age
Acquired
Birthplace
30
Bernd Brückler

G
L
40
2009
Graz, Austria
12
Leoš Čermák

C
L
44
2010
Třebíč, Czechoslovakia
83
Matt Ellison

RW
R
38
2010
Duncan, British Columbia, Canada
45

Alexander Fomichev

G
43
2009
Moscow, Russian SFSR
10

Vladimir Galuzin

LW
33
2008
20

Denis Grot

D
38
2010
Minsk, Byelorussian SSR
4
Danny Groulx

D
L
40
2010
LaSalle, Québec, Canada
70
Evgeny Korolev

D
L
43
2009
Moscow, Russian SFSR
17

Ilya Krikunov

RW
L
38
2008
Elektrostal, Russian SFSR
2

Stepan Krivov

D
32
2010
Tolyatti, Russian SFSR
58
Andrei Kuzmin

LW
L
41
2010
Penza, Russian SFSR
7
Charles Linglet

LW
L
39
2010
Montréal, Québec, Canada
15

Andrei Nikitenko

RW
L
43
2008
Tyumen, Russian SFSR
38

Sergei Olkhovtsev

D
34
2010
Moscow, Russian SFSR
81

Andrei Posnov

C
R
40
2010
Vorkuta, Russian SFSR
24

Maxim Potapov

LW
L
41
2003
Voronezh, Russian SFSR
48

Sergei Rozin

D
R
44
2010
Leningrad, Russian SFSR
33

Egor Shastin

RW
L
39
2006
Kiev, Ukrainian SSR
8

Semyon Valuysky

C
31
2010
Tolyatti, Russian SFSR
18

Mikhail Varnakov

C
37
2001
Gorky, Russian SFSR
19
Ryan Vesce

RW
R
40
2010
Lloyd Harbor, New York, USA
52

Roman Vyahirev

 

F
31
2010
34
Sergei Vyshedkevich

 (C)

D
L
47
2010
Dedovsk, Russian SFSR
77

Alexander Yevseyenkov

D
36
2010
Malakhovka, Russian SFSR
5

Valeri Zhukov

 

D
L
34
2005
Gorky, Russian SFSR
NHL alumni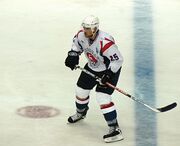 All-time records
Honours
Champions
1

Vysshaya Liga (2): 2003, 2007
1

Steel Cup (1): 2015
1

Dukla Cup (1): 2016
1

Bodense Cup (1): 2017
Runners-up
2

Soviet League Championship (1): 1961
2

USSR Cup (1): 1961
2

Spengler Cup (1): 1972
References
External links