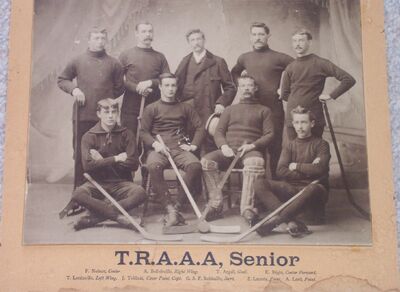 History
The Toronto R & AA were a senior team in Toronto, Ontario. They won the Ontario Hockey Association senior title in 1912-13 & 1913-14 and both times did not challenge for the Allan Cup.
In 1914-15 they played as the Toronto Victorias.
They also had a junior team in 1914-15.
What R & AA stands for is disputed. Some say "Rugby & Athletic Association"; others say "Rowing & Athletic Association." Using simply "R & AA" is accepted.
According to a letter from John (Jack) H. Brown (Captain of the 1913 winning team) to his grandson in which he bequeathed his diamond studded "hockey stick" tie pin (awarded to members of the winning team), R & AA, stands for "Rugby & Athletic Association".
Senior Season-by-Season Records
Season
Games
Won
Lost
Tied
Points
Goals
for
Goals
against
Standing
Playoffs
1912-13
6
6
0
0
12
-
-
1st/Group 2
Won Final, Did not challenge
1913-14
6
5
1
0
10
25
28
1st/Group 2
Won Final, Did not challenge
1915-16
11
0
11
0
0
21
61
4th/Group 2
out of playoffs
1916-17
11
6
5
0
12
-
-
2nd/Group 2A
out of playoffs
Junior Team