The Toronto Canada Moose are a Canadian Junior ice hockey team based out of Thornhill, Ontario. They play in the Greater Metro Junior 'A' Hockey League.
History
The Moose are Thornhill's premier Junior hockey team, as the Ontario Provincial Junior A Hockey League's Toronto Thunderbirds have relocated to King City to become the Villanova Knights.
The founding of the Toronto Canada Moose coincided with the creation of the GMHL in the 2006-07 season. Playing in their home rink, the Thornhill Community Centre, the Moose are one of seven original league members who began play in the GMHL's inaugural season.
The first game in TCM history took place on September 9, 2006 against the King Wild in Thornhill, Ontario. The game resulted in a 5-1 loss. On September 11, 2006, TCM celebrated their first win defeating the Deseronto Thunder by a score of 5-2.
The Moose finished their inaugural season with a 19-20-0-3 record. They placed fifth in the league after a season long race for forth with the Deseronto Thunder and Nipissing Alouettes. Their first playoff appearance put them up against the King Wild in the league quarter-final. Unfortunately, the Moose bowed out in five games (3-8, 8-3, 3-5, 1-9, 2-6).
The Moose started their second season off very slowly. After breaking a long losing streak, the Moose managed to pull off fourteen wins in rather short order but still only finished in eleventh place in the now thirteen team league. In the first round, the Moose were picked by the top seeded Bradford Rattlers. The Moose made a series of it, keeping it close almost scaring the defending champions a couple times. The first three games were close, and the fourth was close until the end as the Rattlers swept the series in four games.
On January 3, 2008, the Moose played against Kazakhstan's Torpedo UST-Kamenogorsk Under-18 squad in an exhibition game. Despite rallying to tie the game 4-4 at the end of the second, the Moose fell to the Torpedo 8-5.

Season-by-Season Standings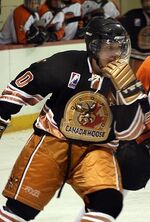 | | | | | | | | | | |
| --- | --- | --- | --- | --- | --- | --- | --- | --- | --- |
| Season | GP | W | L | T | OTL | GF | GA | P | Results |
| 2006-07 | 42 | 19 | 20 | - | 3 | 189 | 204 | 41 | 5th GMJHL |
| 2007-08 | 42 | 14 | 27 | - | 1 | 154 | 254 | 29 | 11th GMJHL |
| 2008-09 | 43 | 18 | 21 | - | 4 | 205 | 204 | 40 | 9th GMJHL |
| 2009-10 | 42 | 15 | 23 | - | 4 | 172 | 212 | 34 | 9th GMJHL |
Playoffs
2009 Lost division quarter-final
2010 Lost qualifier series
External links