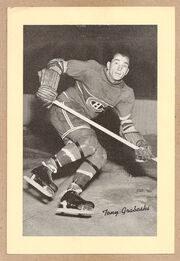 Anthony Rudel Graboski (May 29, 1916 – September 18, 2000) was a Canadian professional ice hockey defenceman who played 66 games in the National Hockey League for the Montreal Canadiens. He was born in Timmins, Ontario.
He played junior hockey for the Oshawa Majors from 1933 to 1935. In 1935-36 he played for the Sudbury Cub Wolves and then joined the senior Sudbury Falcons in the Allan Cup playoffs.
Graboski turned pro with the Hershey Bears in 1936-37 and stayed with them for three seasons. He then played for the senior Sydney Millionaires in 1939-40.
In 1940 the Montreal Canadiens signed him as a free agent. He played for parts of three seasons with the NHL team, scoring 6 goals and 10 assists in 66 games.
After serving for three years in the Canadian military in World War II, Graboski played in 1945-46 for the Ottawa Senators and then retired.
Trivia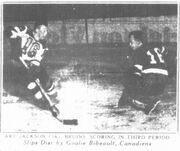 After the November 15, 1942 game at Detroit, it was discovered that the jersey of Tony Graboski of the Montreal Canadiens was missing. With no extra jerseys and an impending game at the Boston Garden, the Canadiens borrowed the #16 jersey from the Red Wings which goalie Paul Bibeault wore for the November 17, 1942 game against the Boston Bruins. Graboski wore Bibeault's #1 jersey for the game.

 
Gallery
External Links