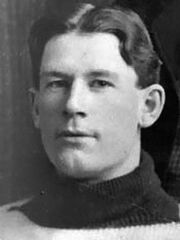 Thomas N. "Tommy" Phillips (May 22, 1883 in Kenora, Ontario – November 30, 1923) was a Canadian professional ice hockey forward who played for the Kenora Thistles, Montreal AAA, Ottawa Senators, Toronto Marlboros and Vancouver Millionaires. He was on two Stanley Cup winning teams, the Montreal Hockey Club and Kenora Thistles. He scored the Stanley Cup winning goal in 1903's Stanley Cup challenge between Montreal and the Winnipeg Victorias. Tommy was an important member of the Kenora team that won the Stanley Cup in 1907.
He died on November 30, 1923 after the removal of an infected tooth.
Playing career
Edit
Tommy Phillips first played senior-level hockey for the Rat Portage Thistles at the 17 in the season of 1901–02. He attended Montreal's McGill University in 1902, and joined the Montreal AAA for the 1902–03 season, winning the Stanley Cup. The next season saw him play for the Toronto Marlboros, including a Stanley Cup challenge. He returned to Rat Portage, now renamed Kenora, and played three seasons for the Thistles including the Stanley Cup challenge win in 1907. In the 1907–08 season, he played professionally for the Ottawa Senators. He played the following season for Edmonton of the Alberta Amateur Hockey Association, including playing in another Stanley Cup challenge. He continued further west, playing for Nelson in 1909–10 and the Vancouver Millionaires in 1911–12.
He was inducted into the Hockey Hall of Fame in 1945 as part of the first class of inductees.
Community content is available under
CC-BY-SA
unless otherwise noted.