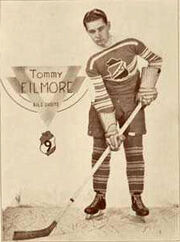 Thomas Henry Filmore (March 14, 1906 – January 11, 1954) was a Canadian professional ice hockey right wing who played 116 games in the National Hockey League. Born in Thamesford, Ontario, he played for the Boston Bruins, Detroit Red Wings, and New York Americans.
He played senior hockey for the London 12th Battery in 1926-27 and then turned pro for the London Panthers in 1927-28.
In 1930-31 he played a full season for the Detroit Falcons. In the middle of the next season Filmore was traded to the New York Americans. And in the middle of the next season (1932-33) he was traded to the Boston Bruins. In his NHL career with these three teams Filmore played in 116 games and scored 17 goals and 12 assists.
After playing three games for the Bruins in 1933-34 he spent the rest of his career in the minor pros and retired in 1940 with the Springfield Indians. He made a one game comeback with the Fort Worth Rangers in 1941-42.
External links
[
]