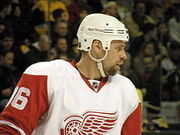 Tomas Holmström
Position
Left Wing
Shoots
Left
Nickname(s)
Homer, Demolition Man
Height
Weight
6 ft 0 in (1.83 m)
202 lb (92 kg)
Nationality
Sweden
Born

Piteå, SWE
January 23, 1973,
NHL Draft
257th overall, 1994
Detroit Red Wings
Pro Career
1994 – present

Tomas Holmström (born January 23, 1973, in Piteå, Sweden) is a retiredSwedish ice hockey winger, he played with the Detroit Red Wings in NHL.
Playing career
Holmström was drafted 257th overall by the Detroit Red Wings in the 1994 NHL Entry Draft and has played for the Red Wings since 1996 with the exception of the season lost due to the 2004-05 NHL lockout where Holmström returned to Sweden to play for his old team, Luleå HF in the Swedish elite league Elitserien.
He won the Stanley Cup in 1997, 1998 and 2002. He was inducted into the Piteå Wall of Fame in 2006.
Holmström is known for standing in front of goal to screen the opposing goaltender to try to tip in goals.[1] Because he has to withstand hits from pucks as well as his opponents in this position, he wears several extra pads to protect his body.[2] Holmström is known to many fans in Detroit by the nickname of "Homer." He acquired the nickname "Demolition Man" while playing in Sweden (where he was also called "Holma").
On April 7, 2007, Holmström scored his 30th goal of the 2006-07 season against Chicago Blackhawks, achieving the first 30 goal season of his career.
Trivia
In a recent issue of Sports Illustrated, Holmström said that he wears three similar gray shirts (one before warm-ups, one during warm-ups, and one during the game), but says that he cannot mix them up because of their purposes.
Awards
Named to the Swedish All-Star Team in 1996.
Gold medal at the Winter Olympics in 2006.
Career statistics
 
 
Regular season
 
Playoffs
Season
Team
League
GP
G
A
Pts
+/-
PIM
GP
G
A
Pts
+/-
PIM
1994-95
Luleå HF
SEL
40
14
14
28
-
56
8
1
2
3
-
20
1995-96
Luleå HF
SEL
34
12
11
23
-
78
11
6
2
8
-
22
1996-97
Adirondack Red Wings
AHL
6
3
1
4
-1
7
-
-
-
-
-
-
1996-97
Detroit Red Wings
NHL
47
6
3
9
-10
33
1
0
0
0
-1
0
1997-98
Detroit Red Wings
NHL
57
5
17
22
6
44
22
7
12
19
9
16
1998-99
Detroit Red Wings
NHL
82
13
21
34
-11
69
10
4
3
7
2
4
1999-00
Detroit Red Wings
NHL
72
13
22
35
4
43
9
3
1
4
3
16
2000-01
Detroit Red Wings
NHL
73
16
24
40
-12
40
6
1
3
4
-1
8
2001-02
Detroit Red Wings
NHL
69
8
18
26
-12
58
23
8
3
11
7
8
2002-03
Detroit Red Wings
NHL
74
20
20
40
11
62
4
1
1
2
1
4
2003-04
Detroit Red Wings
NHL
67
15
15
30
8
38
12
2
2
4
0
10
2004-05
Luleå HF
SEL
47
14
16
30
-10
50
4
0
0
0
-7
18
2005-06
Detroit Red Wings
NHL
81
29
30
59
14
66
6
1
2
3
-1
12
2006-07
Detroit Red Wings
NHL
77
30
22
52
13
59
15
5
3
8
2
14
SEL Totals
121
40
41
81
-
184
23
7
4
11
-
60
AHL Totals
6
3
1
4
-1
7
-
-
-
-
-
-
NHL Totals
699
155
192
347
11
512
108
32
30
62
21
92
International play
Holmström has played for Sweden in the following competitions:
International statistics
Year
Team
Event
 
GP
G
A
Pts
PIM
1996
Sweden
WC
6
1
0
1
12
2002
Sweden
Oly
4
1
0
1
2
2004
Sweden
WCup
4
3
2
5
8
2006
Sweden
Oly
8
1
3
4
10
Senior int'l totals
22
6
5
11
32
Statistics as of May 25, 2007
References