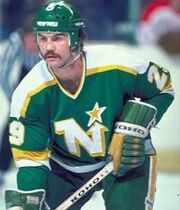 Thomas Anthony Younghans (born January 22, 1953 in St. Paul, Minnesota) is a retired professional ice hockey right winger who played 429 games for the NHL New York Rangers and Minnesota North Stars between 1976 and 1982.
He played for the University of Minnesota from 1974 to 1976. Undrafted by the NHL, Younghans signed as a free agent with the Minnesota North Stars in 1976.
Younghans was a regular with the North Stars from 1976 to 1981, but never scored more than 10 goals in any one season. In 1981, he was sold to the New York Rangers. After splitting the 1981-82 season between the minor pros and the Rangers, he retired in 1982.
He played in a total of 429 NHL games, scoring 44 goals and 45 assists.
Younghams played for the United States in the 1976, 1977. and 1978 World Championships as well as the 1981 Canada Cup.
References
[
]
Tom Younghans's career stats at The Internet Hockey Database