---
---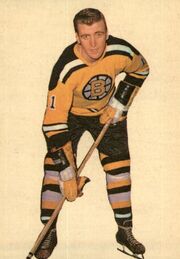 Thomas Mark "The Bomber" Williams (April 17, 1940 – February 8, 1992) was the first American ice hockey player to regularly play in the National Hockey League since the retirement of Frank Brimsek in 1950.
Born in Duluth, Minnesota, Williams was a member of the U.S. Olympic hockey team that defeated Czechoslovakia and won the Gold Medal at the 1960 Winter Olympics.
His National Hockey League career began in 1961-62 when he joined the Boston Bruins. Williams was one of the few offensive bright spots on the Bruins as the team struggled and missed the playoffs until the 1967-68 season. After suffering a season ending knee injury on December 14, 1968, Williams was traded to the Minnesota North Stars, where he played for a season and a half until he was traded to the California Golden Seals.
After just two seasons with the Golden Seals, Williams jumped to the World Hockey Association to play for the New England Whalers. Upon his return to the NHL, Williams joined the new expansion team Washington Capitals where he led the team in scoring (22 goals, 36 assists), and was involved in the franchise's first penalty shot on December 5, 1974, against the Buffalo Sabres. Williams retired during the 1975–76 NHL season.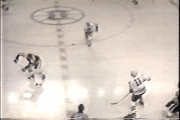 The December 14, 1968 Boston-Chicago game saw four different Bruins score 4 points and Bobby Orr net his first career hat trick (and 5 points) as Boston thumped Chicago 10-5. Having started 19 games in a row, Gerry Cheevers was pulled with 8:56 to go and backup Joe Junkin played in his only NHL game. Junkin held the fort and shutout Chicago for the remainder of the match. A major development during this game would affect the Bruins for the next decade. Tom Williams, an offensive bright spot for the Bruins for the last seven seasons, suffered a season-ending left knee injury during the first shift of the game when kneed by Howie Young. Wayne Cashman would win a regular spot in the line-up with Williams' injury.
In 1981, Williams was inducted into the United States Hockey Hall of Fame.
Williams died on February 8, 1992, at the age of 51.
Gallery
[
]
External Links
[
]