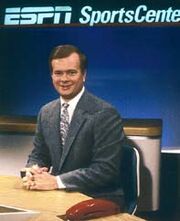 Thomas E. Mees (October 13, 1949–August 14, 1996) at Southington, Connecticut, was an American sports broadcaster specializing in ice hockey.
He began his career as a student at the University of Delaware. He then took a job as sports director at WILM-AM in Wilmington, Delaware. Mees returned to Delaware in 1992 when he announced the Blue Hens' America East Championship for ESPN from the field house at Delaware.
After six years in Wilmington and one year in Tallahassee, Florida, Mees was hired by ESPN as one of their first on-air personalities for the network's launch on September 7, 1979. In 2005, he was inducted into the Delaware Sports Museum and Hall of Fame.
Mees was a lead anchor on SportsCenter from 1979 to 1987 when he took on play-by-play duties for NHL games on ESPN. ESPN later lost the NHL contract to SportsChannel America and Mees returned full time to SportsCenter. When the NHL returned to ESPN, Mees worked NHL games during the season and hosted SportsCenter in the off-season. Mees was also the powerful guiding voice of NCAA Ice Hockey on ESPN, and was a forceful advocate to help the growth of the Frozen Four (NCAA Hockey's championship tounrnament) into its national status today.
By the 15th anniversary of ESPN, Mees was one of three, along with Chris Berman and Bob Ley, original SportsCenter anchors still with the network.
On August 14, 1996, Mees, who did not know how to swim, drowned in a neighbor's swimming pool. At first, police said Mees jumped into the pool to save his daughter, Gabrielle, but later said that account could not be confirmed. He left behind Michele, his wife of almost 10 years, and two daughters: Lauren, who was 8 years old, and Gabrielle, who was 4.
Community content is available under
CC-BY-SA
unless otherwise noted.