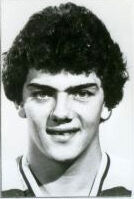 For the player of the same name born in 1934, please see Tom McCarthy (b. 1934). For the player of the same name who played for the Quebec Bulldogs, please see Thomas McCarthy.
Tom McCarthy (born July 31 1960, Toronto, Ontario) is a retired professional ice hockey player who played 460 games in the National Hockey League. He played for the Minnesota North Stars and Boston Bruins.
He was the number 1 overall pick in the 1977 OMJHL midget draft, making him one of two players drafted ahead of Wayne Gretzky. He had 69 goals for the Oshawa Generals in the 1978–79 season.
In the 1979 NHL entry draft, he was chosen in the first round (tenth overall) by the Minnesota North Stars. He was selected to play in the 1983 NHL All-Star Game and finished the season with 39 goals. He went on to play seven seasons for the North Stars and two for the Boston Bruins, finishing his career with 178 goals and 399 points. He had 12 goals and 38 points in the playoffs.
After he retired he became involved with drug dealer Carl Thompsen. His activities ended up with McCarthy receiving a sentence of five years and ten months for conspiracy to traffic drugs in 1994. As he was considered an illegal alien by U.S. authorities, he ended up serving part of his sentence at the Leavenworth Federal Prison. After being transferred to a Canadian prison to complete his sentence, he was released in 1998.
After release from prison, he became a junior hockey coach in Mississauga, Ontario.
He coaches the Huntsville Otters of the OPJHL.
Community content is available under
CC-BY-SA
unless otherwise noted.