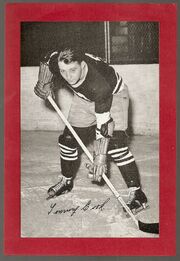 Thomas John Cook (May 7, 1907 – October 2, 1961) was a professional Canadian ice hockey forward who played 348 games in the National Hockey League. Born in Fort William, Ontario, he played for the Montreal Maroons and Chicago Black Hawks. He won the Stanley Cup in 1934 with the Black Hawks.
He started out played junior and senior hockey in his hometown and junior with the University of Manitoba.
Playing Career
Tom Cook began his professional hockey career at the age of 21, playing with the Tulsa Oilers in 1928-29. He played in 39 games, scoring 22 goals and 33 points. In 1929-30, Cook was elevated to the ranks of the NHL when he joined the Chicago Blackhawks. In 41 games, he contributed 14 goals and 30 points. The next season, Cook scored 29 points and helped the Blackhawks reach the Stanley Cup finals where they lost the championship to the Montreal Canadiens three-games-to-two.
During the next two years, Cook suited up for all 48 Chicago games, scoring 24 goals and 51 points. In 1933-34, the club again reached the championship round, this time coming out on top, stopping the Detroit Red Wings three-games-to-one.
In 1936-37, Cook's duties were divided between the Blackhawks and the Cleveland Barons of the IAHL. While a member of the Falcons, Cook regained his scoring touch, finishing with 29 points in just 24 games.
Cook, at just 5'7" and 140 pounds, was small, even for that era, but would always stand his ground against opponents, the vast majority of whom were considerably bigger.
Cook returned for one final NHL season in 1937-38, dressing for 20 games with the Montreal Maroons. He was limited to just two goals and six points and retired.
In 348 NHL games, Cook had 77 goals and 175 points.
Awards & Achievements
Gallery
External Links