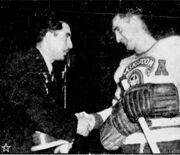 Tom "Tucker" Burlington (born August 8, 1920 in Toronto, Ontario) was a Canadian centre.
He played junior hockey for the Owen Sound Greys until 1941, when he turned pro with the Atlantic City Sea Gulls. He scored 65 goals and 66 assists in 60 games for the Sea Gulls.
In 1942 Burlington moved to the Cleveland Barons for four seasons. He exceeded 80 points in three of those seasons and won the Calder Cup in 1945.
Burlington moved back to his hometown senior Owen Sound Mercurys in 1950, immediately winning the Allan Cup. He stayed with the Mercurys for another five seasons, retiring in 1956.