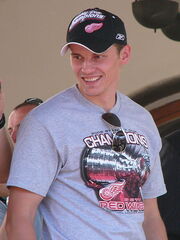 Tomáš Kopecký (born February 5, 1982 in Ilava, Czechoslovakia) is a Slovak National Hockey League left wing for the Florida Panthers. He has a son named Jakub and wife Maria. Before turning pro in the NHL, Kopecký was a member of the Lethbridge Hurricanes of the WHL, as well as the Cincinnati Mighty Ducks and Grand Rapids Griffins of the AHL and a former Detroit Red Wings of the NHL. Kopecký has inherited the nickname of "Koko" from the pronunciation of his last name by Red Wings television announcer Mickey Redmond. His surname is pronounced "kaw-PET-skee".
On Thursday December 14, 2006, in a game against the Chicago Blackhawks, Kopecký was injured a minute into the third period of the Red Wings' 3-2 victory. Kopecký lost his footing and hit the boards as he approached the Chicago blue line, and Blackhawks defenseman Jim Vandermeer then fell on top of him. Kopecký was motionless on the ice for a few minutes before being helped to the dressing room by members of the Detroit training staff. He had surgery the next day to repair a broken clavicle.
Kopecký had previously worn the #28, but switched to #82 after the Red Wings acquired free agent defenceman Brian Rafalski. 82 is a reversal of the 28, as well as Kopecky's birth year.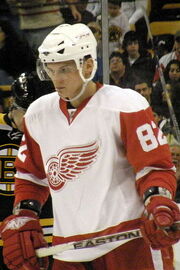 On April 3, 2008, near the end of the 2007–08 NHL season, Kopecký was injured in a game against the Columbus Blue Jackets. Kopecký ended up with a torn Anterior cruciate ligament (ACL), which was repaired during surgery on April 22, 2008. On June 4, 2008, he won the Stanley Cup with the Red Wings.
On July 1, 2009 Kopecky signed a two year deal with the Chicago Blackhawks earning $1.2 million per season. The same day, his good friend Marian Hossa, also a former Red Wing, signed with Chicago with a 12 year deal.
Community content is available under
CC-BY-SA
unless otherwise noted.