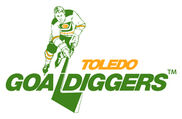 The Toledo Goaldiggers were an International Hockey League franchise that played in Toledo, Ohio from 1974 to 1986 @ the Toledo Sports Arena.  Prior to the Goaldiggers, previous defunct Toledo franchises were the Toledo Hornets (1970–1974), Toledo Blades (1963–1970) and Toledo Mercurys (1947-1962). After the 1985–1986 season, the Goaldiggers suspended operations due financial difficulties and where sold to Russ and Diane Parker. The franchise was moved to Kansas City, Missouri, and in 1990 became the Kansas City Blades (1990-2001).
During the 12 year existance of the Toledo Goaldiggers, the franchise won 4 Turner Cup Championships (1974-75, 1977-78, 1981-82 & 1982-83). Two championships (1974-75 &1977-78) were won under legendary coach and GM Ted Garvin. The last two championships (1981-82 &1982-83) were won under coach and GM Bill Inglis who rebuilt the franchise into a powehouse that went to the Turner Cup finals three consecutive seasons. His teams featured future NHL players Dirk Graham & Lorne Molleken.
The most famous  Goaldiggers player was Mike Eruzione, who played with and Captained the 1980 "Miracle on Ice" U.S. ice hockey team. Eruzione was a Goaldigger for two seasons (1977-79) prior to joining the U.S. national team. He won the IHL's US Born Rookie of the Year in 1977-78.
Team Photos
[
]
External links
[
]