Todd McFarlane (born March 16, 1961) is the owner of MacFarlane's Sports Picks toy line and a former co-owner of the Edmonton Oilers hockey club. In addition, he is a comic book publisher and has worked on Spider-Man for Marvel Comics.
Edmonton Oilers
Edit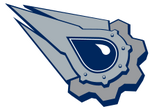 McFarlane used to be co-owner of National Hockey League's Edmonton Oilers as part of the Edmonton Investors Group . He sold his shares to Daryl Katz.[1] During his time as owner, McFarlane also designed the logo used on the team's alternate (third) jerseys along with the raining drop of oil logo. The jersey has not been worn since 2007.
McFarlane Toys
Edit
In 1994, McFarlane created McFarlane Toys. Its line of meticulously sculpted action figures changed the entire industry by focusing on more mature consumers and non-traditional action figure inspirations such as musicians. By 2000, the company licensed the right to produce action figures of athletes in ice hockey, along with other sports.
Herb Carnegie
Edit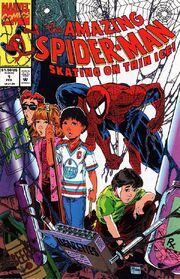 While an employee of Marvel Comics, McFarlane created an ice hockey themed comic book called The Amazing Spider-Man: Skating on Thin Ice. The comic book was distributed free and its plot was about the dangers of drug abuse. As part of the storyline, former hockey player Herb Carnegie was depicted.
Tony Twist lawsuit
Edit
McFarlane lost a December 2004 suit in which hockey player Tony Twist sued Todd McFarlane because he named a mobster character in Spawn after Twist.[2][3] McFarlane created a mob enforcer character named Antonio "Tony Twist" Twistelli,[4] whom McFarlane acknowledged was named after Tony Twist. A lawsuit resulted from the likeness, in which Twist won a $15 million verdict in 2004 when a St. Louis, Missouri jury found Todd McFarlane Productions had profited from Twist's likeness.[5] Despite two appeals, the verdict was upheld in June 2006.[6]
McFarlane is an avid baseball and purchased Mark McGwire's 70th home run baseball (at the time the records for most home runs in one season), at auction for US $3 million. In addition, he received the National Football League's Artist of the Year award for 2005, for his work on program covers for the Baltimore Ravens football club.
References
Edit
Community content is available under
CC-BY-SA
unless otherwise noted.