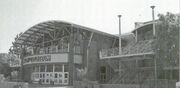 The Tingley Coliseum is an 11,571-seat multi-purpose arena in Albuquerque, New Mexico. It is located at 300 San Pedro Dr NE Albuquerque, NM 87108. It is the former home to the New Mexico Scorpions Ice hockey team, which has relocated to the new Santa Ana Star Center in Rio Rancho, New Mexico, a suburb of Albuquerque, for the 2006 season. Currently, it is home to the Albuquerque Thunderbirds of the NBA Development League.
History
[
]
In 1916 the New Mexico State Fair was not held due to financial difficulties and the lack of a suitable location. Many held out hope, but the State Fair was canceled every year for over two decades.
It was the end of the State Fair until, in 1937, a group of New Mexico businessmen led by Governor Clyde Tingley convinced President Franklin Roosevelt to grant Works Progress Administration (WPA) funds for construction of fairground buildings in the middle of Albuquerque, of which Tingley Coliseum would be the center.
Over the next several years, more than $500,000 in WPA funds and more than a million adobe bricks were used for the construction of buildings. It took much longer than expected, finishing in 1957, seventeen years after construction began. Though the Coliseum took nearly two decades to complete, the rest of the fairgrounds did not take nearly as long, which enabled the State Fair to reopen in 1938.
The Coliseum was dedicated at the opening of the 1957 New Mexico State Fair and was named in honor of Governor Tingley. Roy Rogers and Dale Evans played the entire run of that year's nine-day Fair.
In 1998, the state legislature granted funds to keep Tingley Coliseum a resource for New Mexicans to enjoy for years to come. Since 1999, $9.6 million has been spent on renovating the coliseum.
External links
[
]