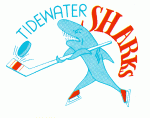 The Tidewater Sharks were a minor professional team in Norfolk, Virginia. They played in the Southern Hockey League in the 1975-76 and in the 1976-77 season until the league itself folded on January 31.
The team was coached by John Hanna in 1975-76 and by Harold Schooley in 1976-77.
The Sharks finished in 5th place in the 6 team league in 1975-76, out of the playoffs.
They were a farm team of the Calgary Cowboys of the World Hockey Association.
Sharks who played in the NHL