The Thunder Bay Fighting Walleye are a Canadian Junior ice hockey team based in Thunder Bay, Ontario. They play in the Thunder Bay Junior B Hockey League and are eligible to compete for the Keystone Cup, Junior B Championship of Western Canada.
History
[
]
The Thunder Bay Stars joined the Thunder Bay Junior B Hockey League in 2009. The team was put together after the K&A Wolverines accepted an invitation to play Junior A in the Superior International Junior Hockey League.
In both 2010 and 2011, the Stars finished third but managed to upset the second place Nipigon Elks in the league semi-finals to earn entrance into the league final. In both cases, the Stars were defeated by the Thunder Bay Northern Hawks.
The team was sold in March of 2017 by Scott and Dave Simpson, after owning the team for 8 years, to Derek Geddes who has experience with the Thunder Bay Kings program. Dale Savela was named as new head coach has experience working with the West End Bruins Midget AA team. The team was rebranded as the Thunder Bay Fighting Walleye.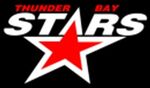 Season-by-Season Standings
[
]
| | | | | | | | | | | |
| --- | --- | --- | --- | --- | --- | --- | --- | --- | --- | --- |
| Season | GP | W | L | T | OL | GF | GA | P | Results | Playoffs |
| 2009-10 | 30 | 6 | 24 | 0 | - | 123 | 222 | 12 | 3rd TBJBHL | Lost Final |
| 2010-11 | 30 | 9 | 17 | 4 | - | 123 | 161 | 22 | 3rd TBJBHL | Lost Final |
| 2011-12 | 32 | 15 | 17 | 0 | - | 149 | 171 | 30 | 3rd TBJBHL | Lost Semifinals |
| 2012-13 | 32 | 14 | 17 | 1 | - | 140 | 143 | 29 | 3rd TBJBHL | Lost Semifinals |
| 2013-14 | 30 | 16 | 12 | 2 | - | 123 | 104 | 34 | 2nd TBJBHL | Lost Final |
| 2014-15 | 30 | 15 | 15 | 0 | - | 149 | 132 | 30 | 2nd TBJBHL | Lost Final |
| 2005-16 | 32 | 27 | 5 | 0 | - | 210 | 81 | 54 | 1st TBJHL | Lost Final |
| 2016-17 | 29 | 4 | 21 | 4 | - | 112 | 221 | 12 | 4th LJHL | Lost Semifinals |
| 2017-18 | 28 | 16 | 8 | 4 | - | 212 | 109 | 36 | 1st LJHL | Lost Final |
| 2018-19 | 32 | 17 | 11 | 1 | 3 | 187 | 96 | 38 | 2nd LJHL | Lost Final |
| 2019-20 | 27 | 17 | 8 | 1 | 1 | 143 | 104 | 36 | 2nd, LJHL | Playoffs cancelled |
Keystone Cup
[
]
2018
[
]
2019
[
]
External links
[
]