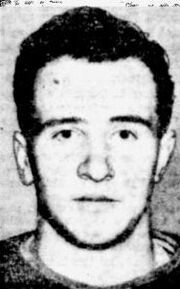 Thain Andrew Simon (b. April 24, 1922 in Brockville, Ontario - d. September 18, 2007) is a former Canadian ice hockey defenceman. He played 3 games in the NHL for the Detroit Red Wings.
He played junior hockey for the Brantford Lions in 1941-42 and then played senior hockey for the Ottawa RCAF Flyers in 1942-43. From 1943 to 1945 Simon served in the Canadian military in World War II.
Simon returned in 1945-46 to play for the senior Pembroke Lumber Kings. The following season he joined the Indianapolis Capitals and was also called up for three games with the Detroit Red Wings. He spent the 1947-48 season in the minor pros. Following a trade to the Chicago Blackhawks in 1948, Simon played for the St. Louis Flyers in 1948-49.
In 1949 Simon returned to the Pembroke Lumber Kings and played there until his retirement in 1953.
External links
[
]