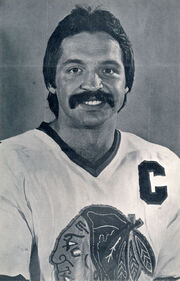 Terry Ruskowski (b. December 31, 1954 in Prince Albert, Saskatchewan) is a former professional centre who played in the World Hockey Association and the National Hockey League from 1979 to 1989.
Ruskowski began by playing for the Swift Current Broncos of the Western League in 1971-72. He played there until 1974, year where he was drafted to both the World Hockey Association and the National Hockey League; 70th overall by the NHL's Chicago Blackhawks in the 1974 NHL Entry Draft and 58th overall by the WHA's Houston Aeros in the 1974 WHA Entry Draft.
Unlike many other young players who have been drafted by both leagues at the same time, Ruskowski choose the WHA over the NHL and spent 4 seasons with the Aeros and one with the Winnipeg Jets. When the WHA folded in 1979, the Blackhawks, who still retained his rights to the NHL, signed him. He later played for the Los Angeles Kings, the Pittsburgh Penguins and the Minnesota North Stars.
Folowing his playing career, Ruskowski became coach; he started by coaching the WHL's Saskatoon Blades, then would make stops in the ECHL and the International Hockey League. He joined the Laredo Bucks of the Central Hockey League in 2002 as the head coach and general manager. He led the team to a championship in 2004.
He stayed until 2011, when he resigned and became the coach of the Rio Grande Valley Killer Bees.
Gallery
[
]