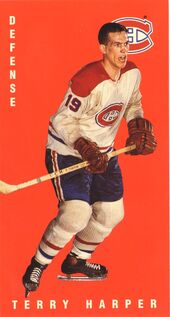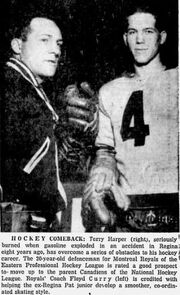 Terrance "Terry" Harper (born January 27, 1940 in Regina, Saskatchewan) was a Canadian defenceman.
Harper played junior hockey with the Regina Pats for three seasons from 1957 to 1960. He was with the team when they lost the 1957-58 Memorial Cup Final to the Ottawa-Hull Canadiens.
The Pats were then a Montreal Canadiens farm team. Harper played in the Canadiens minor pro system until late in the 1962-63 NHL season when injuries got him into the Canadiens' NHL lineup. He stuck there for ten years, winning five Stanley Cups.
Harper was a steady, not flashy defenceman, keeping the defensive zone clear.
He was traded to the Los Angeles Kings in 1972 and then to the Detroit Red Wings in 1975 as part of the Marcel Dionne trade. After a season each with the St. Louis Blues and the Colorado Rockies Harper retired in 1981.
Harper played in 1066 NHL games, scoring 35 goals and 221 assists. He also played in 112 playoff games, with 4 goals and 13 assists.
Awards and achievements
Stanley Cup Champion – 1965, 1966, 1968, 1969, 1971 (with Montreal)
Saskatchewan Hockey Hall of Fame - Class of 2016
External links
Note: Harper served as Red Wings captain during most of the 1975–76 season. Danny Grant was injured and out of the lineup.