Honoured Member of the Manitoba Hockey Hall of Fame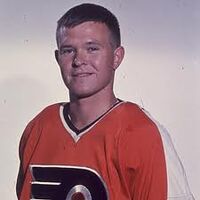 Terrance James Ball
Career Statistics
Playing
Awards & Achievements
Career Moves
Claimed by Philadelphia from NY Rangers in Expansion Draft, June 6, 1967.
Traded to Pittsburgh by Philadelphia for George Swarbrick, June 11, 1970.
Traded to Buffalo by Pittsburgh for Jean-Guy Lagace, January 24, 1971.
Selected by Minnesota (WHA) in 1972 WHA General Player Draft, February 12, 1972.
Claimed by Cleveland (WHA) from Minnesota (WHA) in WHA Intra-League Draft, June 19, 1975. *Traded to Cincinnati (WHA) by Cleveland (WHA) for future considerations, January, 1976.
Claimed on waivers by Birmingham (WHA) from Cincinnati (WHA), October, 1976.
External Links