Telus Cup
Current season or competition:
2022 Telus Cup



Telus Cup

Formerly
Wrigley Cup (1974-1978)
Air Canada Cup (1979-2003)
Sport
Ice hockey
Inaugural season

1974-75

Country(ies)
Canada
Most recent champion(s)
Toronto Young Nationals (2) (2019)
Most championships
Notre Dame Hounds (5)
TV partner(s)
TSN (English)
RDS (French)
Official website
Telus Cup website
Related competitions
Esso Cup (female equivalent)
The Telus Cup is Canada's national male midget ice hockey club championship. It is an annual event, held by Hockey Canada each April. From 1979 to 2003, the national midget championship was sponsored by Air Canada.
The current champions are the Toronto Young Nationals who won the 2019 Telus Cup in Thunder Bay, Ontario.
The 2020 edition was scheduled to be held at the Stade L.P. Gaucher in Saint-Hyacinthe, Quebec hosted by the Gaulois de Saint-Hyacinthe. The tournament would be cancelled due to the COVID-19 pandemic. The 2021 tournament was cancelled as few leagues were actually able to get in a full season and Hockey Canada cancelled interbranch events on February 5th. The event will be held in St. Hyacinthe in 2023. Membertou, Nova Scotia was awarded the 2021 tournament but will host the 2022 tournament instead.
History
Wrigley Cup (1973-1978)
The forerunner to the Canadian national male midget championship was the Wrigley National Midget Hockey Tournament which ran from 1974 though 1978. Oshawa, Ontario hosted the very first Wrigley tournament. In 1973, prior to Wrigley, the Prince Edward Island provincial government co-sponsored it as part of their "Come Home Year" celebrations.
The Wrigley was an invitational event, with each of Canadian Hockey's branches declaring their respective champions through play-downs held during the Christmas and New Year's holidays. The champions were invited to take part in the Wrigley each January, a host team comprised the final competitor.
Each year, the winning team represented Canada in the Soviet Union for a series of games against elite teams, including the Soviet Midget Red Army in Moscow, Leningrad, and Riga. The Verdun Midget Maple Leafs won the first Wrigley championship in 1974, defeating Kingston Gurnsey Realtors of Ontario 5-3. The final game was televised live coast to coast by the CTV Television Network. Media in USSR reported that the last game between the Leafs and the Red Army team in Moscow was viewed by more than 100 million people on Soviet television, although there were only two television channels in Russia at that time. Verdun lost to the National Russian Team, 6-5.
Air Canada Cup (1979-2003)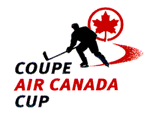 Canada's official national midget championship, the Air Canada Cup, was established in 1979. The inaugural tournament was held in Winnipeg, Manitoba and used a format similar to the Wrigley. Each of Canada's twelve branches determined their champions through their own playoff system. The branch champions advanced to the national tournament to play for the Air Canada Cup.
In 1984, the Air Canada Cup was revised to the current six-team format. Five regional champions, decided by inter-branch competition (branch playoffs in Quebec), and a predetermined host team play a round robin with the top four teams qualifying for the semi-finals. The winners of the semi-finals advance to the gold medal game, the losers play for the bronze medal. A total of 19 games are played over six days of competition.
Telus Cup (2004-present)
After Air Canada's sponsorship ended in 2003, Telus signed on as the new title sponsor and the national championship was rechristened as the Telus Cup in October 2004.[1]
Teams from Saskatchewan and Quebec have been dominate at this event and captured the most medals. The most successful teams include the Notre Dame Hounds, Regina Pat Canadians, Prince Albert Mintos, Lac St-Louis Lions, Richelieu Riverains (now Collège Charles-Lemoyne), and Red Deer Rebels/Chiefs.
All Telus Cup round robin, semi-final, and bronze medal games are streamed live by FASTHockey.com. Each year's gold medal game is televised nationally on TSN (English) and RDS (French).
Winners and hosts
Wrigley Cup

| Year | Gold Medal | Silver Medal | Bronze Medal | Location |
| --- | --- | --- | --- | --- |
| 1974 | Verdun Leafs | Kingston | Hull Kiwanis | Oshawa, ON |
| 1975 | Barrie Co-ops | Verdun Leafs | Oshawa Parkway | Oshawa, ON |
| 1976 | Calgary Spurs | Toronto Nationals | Swift Current Legionnaires | Calgary, AB |
| 1977 | Don Mills Flyers | Lions du Lac St-Louis | Burnaby Winter Club | Moncton, NB |
| 1978 | Couillard de Ste-Foy | East Ottawa Voyageurs | Toronto-Wexford | Verdun, QC |
Air Canada/Telus Cup
Year
Gold Medal
Silver Medal
Bronze Medal
Location
1979
Couillard de Ste-Foy

St. Michael's College Buzzers

Notre Dame Hounds
Winnipeg, MB
1980
Notre Dame Hounds
Gouverneurs de Ste-Foy
North Shore Winter Club
Cornwall, ON
1981
Lions du Lac St-Louis
Kitchener Greenshirts
Antigonish Novas
Halifax, NS
1982
Burnaby Winter Club
Gouverneurs de Ste-Foy
Cape Breton Colonels
South Ottawa Warriors (tie)
Victoria, BC
1983
Regina Pat Canadians
Gouverneurs de Ste-Foy
Andrews Maroons
Ste-Foy, QC
1984
North Bay Pine Hill
Notre Dame Hounds
Lions du Lac St-Louis
North Bay, ON
1985
Lions du Lac St-Louis
Regina Pat Canadians
Calgary Buffaloes
Regina, SK
1986
Notre Dame Hounds
Toronto Redwings
Gouverneurs de Ste-Foy
Moncton, NB
1987
Riverains du Richelieu
Notre Dame Hounds
Calgary Buffaloes
Gloucester, ON
1988
Regina Pat Canadians
Calgary Northstars
Thunder Bay Bearcats
Thunder Bay, ON
1989
Calgary Buffaloes
Regina Pat Canadians
Wexford Raiders
St. John's, NL
1990
Riverains du Richelieu
Gouverneurs de Ste-Foy
Notre Dame Hounds
Sorel, QC
1991
Calgary Northstars
Sherwood Park Chain Gang
Lions du Lac St-Louis
Calgary, AB
1992
Lions du Lac St-Louis
Thunder Bay Kings
Dartmouth Kings
Dartmouth, NS
1993
Yorkton Mallers
Gouverneurs de Ste-Foy
Sault Ste Marie Legion
Kitchener, ON
1994
Regina Pat Canadians
Red Deer Chiefs
L'Intrepide de Gatineau
Brandon, MB
1995
Thunder Bay Kings
Red Deer Chiefs
Gouverneurs de Ste-Foy
Sherbrooke, QC
1996
Gouverneurs de Ste-Foy
Thunder Bay Kings
North Kamloops Lions
Kamloops, BC
1997
Thunder Bay Kings
New Liskeard Cubs
Calgary Royals
New Glasgow, NS
1998
Riverains du C.C. Lemoyne
Sudbury Nickel Capitals
Calgary Buffaloes
Sudbury, ON
1999
Regina Pat Canadians
Calgary Flames
Gouverneurs de Ste-Foy
Prince Albert, SK
2000
Cantonniers de Magog
C.F. de Montréal-Bourassa
Saskatoon Contacts
Montréal, QC
2001
Gouverneurs de Ste-Foy
Calgary Royals
Toronto Young Nationals
Prince George, BC
2002
Tisdale Trojans
Dartmouth Subways
Riverains du C.C. Lemoyne
Bathurst, NB
2003
Calgary Northstars
Gaulois du Collège Antoine-Girouard
St. John's Maple Leafs
Sault Ste Marie, ON
2004
Brandon Wheat Kings
Riverains du C.C. Lemoyne
Red Deer Chiefs
Kenora, ON
2005
Saskatoon Contacts
L'Intrépide de Gatineau
Commandeurs de Lévis
Gatineau, QC
2006
Prince Albert Mintos
Calgary Buffaloes
Patriotes de Châteauguay
Charlottetown, PEI
2007
Prince Albert Mintos
Red Deer Chiefs
Blizzard du Sém. St-François
Red Deer, AB
2008
Sudbury Nickel Capital Wolves
Winnipeg Thrashers
Blizzard du Sém. St-François
Arnprior, ON
2009
Notre Dame Hounds
Calgary Buffaloes
R.S. de Laval-Bourassa
Selkirk, MB
2010
Notre Dame Hounds
Mississauga Reps
St. John's Fog Devils
Lévis, QC
2011
Winnipeg Thrashers
London Jr. Knights
Lac St-Louis Lions
St. John's, NL
2012
Red Deer Chiefs
Phénix du Collège Esther-Blondin
Saskatoon Contacts
Leduc, AB
2013
Red Deer Chiefs
Ottawa Junior 67's
R.R. de Laval-Montréal
Sault Ste Marie, ON
2014
Prince Albert Mintos
Grenadiers de Châteauguay
Okanagan Rockets
Moose Jaw, SK
2015
Toronto Young Nationals
Grenadiers de Châteauguay
Regina Pat Canadians
Rivière-du-Loup, QC
2016
North York Rangers
Saint John Vito's
Lac St-Louis Lions
Quispamsis, NB
2017
Cape Breton West Islanders
Blizzard du Sém. St-François
Mississauga Rebels
Prince George, BC
2018
Notre Dame Hounds
Cantonniers de Magog
Lethbridge Hurricanes
Sudbury, ON
2019
Toronto Young Nationals
Magog Cantonniers
Tisdale Trojans
Thunder Bay, ON
2020
Tournament cancelled by Hockey Canada due to COVID-19 pandemic
St-Hyacinthe, Quebec
2021
Tournament cancelled February 5th by Hockey Canada due to COVID-19 pandemic
Cape Breton, Nova Scotia
2022
Cape Breton, Nova Scotia

2023

St-Hyacinthe, Quebec
National championships by region
Note: Wins by host teams and teams prior to regional consolidation have been assigned to their respective regions as they currently exist.
Award winners
See: List of Telus Cup award winners
Telus Cup alumni
See: List of Telus Cup alumni who played in the NHL
References
See Also
External links