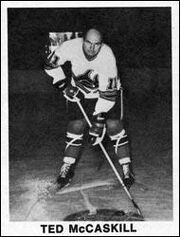 Ted McCaskill (born October 29, 1936 in Kapuskasing, Ontario) was a professional ice hockey player who played four games in the National Hockey League and 91 games in the World Hockey Association. He played with the Minnesota North Stars and Los Angeles Sharks.
He played junior hockey for the Kitchener Canucks from 1954 to 1956 and then played two seasons for the senior Kapuskasing Huskies in his hometown. In 1958 McCaskill went to Great Britain and played one season each for the Edinburgh Royals and the Paisley Pirates. In 1960 he returned home and played two seasons for the senior Kapuskasing GM's.
In 1962-63 McCaskill started a stretch of five seasons for the Nashville Dixie Flyers of the Eastern Hockey League. The 1967 NHL Expansion gave him a new chance as the Minnesota North Stars signed him as a free agent. He played four games for them (scoring two assists) in 1967-68 but that was the extent of his NHL career.
After playing in the minors again, McCaskill signed with the Los Angeles Sharks of the World Hockey Association and played a full season for them in 1972-73. After starting the 1973-74 season as a player for the Sharks, he was named as their interim coach.
He returned to playing with the Binghamton Dusters in 1974-75 and then retired.
McCaskill coached the Mohawk Valley Comets in 1975-76 and the Long Beach Sharks in 1977-78.
He scored 13 goals and 13 assists in 91 WHA games.
He is the father of Major League baseball pitcher Kirk McCaskill.
Community content is available under
CC-BY-SA
unless otherwise noted.