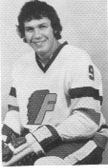 Ted Hodgson (Born - June 30, 1945 in Hobbema, Alberta) is a retired Canadian professional ice hockey forward who played 4 games in the National Hockey League for the Boston Bruins. He would also play 107 games in the World Hockey Association with the Cleveland Crusaders and Los Angeles Sharks.
He played junior hockey for the Estevan Bruins from 1963 to 1966. The Bruins loaned him to the Edmonton Oil Kings for the 1965-66 Memorial Cup Final which the Oil Kings won.
Hodgson turned pro in 1966 with the Oklahoma City Blazers and got a four game callup to the Boston Bruins in 1966-67. From then until 1972, Hodgson was stuck in the minors, despite neing traded to the New York Rangers and the Buffalo Sabres.
In 1972 Hodgson jumped to the Cleveland Crusaders of the World Hockey Association, scoring 15 goals and 23 assists. The next season he started with the Crusaders but was sent down to the Jacksonville Barons. After playing 23 games for the Los Angeles Sharks in 1973-74, Hodgson played three seasons in the minors and then retired in 1977.
In the NHL Hodgson got no points in four games. In the WHA he scored 18 goals and 34 assists in 107 games.
External Links
[
]