Talbot Gardens
Location
Simcoe, Ontario, Canada
Opened
1946
Owner
The Municipality of Norfolk County
Operator
The Municipality of Norfolk County
Construction cost
more than $1,000,000
Tenants
Simcoe Storm, Norfolk IceCats, Norfolk HERicanes, Simcoe and District Minor Hockey Association
Capacity
approx. 1,000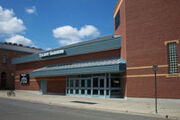 The Talbot Gardens is an ice hockey arena in Simcoe, Ontario, Canada. The arena was once the home to a professional hockey team, the Norfolk IceCats of the now defunct North Eastern Hockey League. The arena is currently the home to a Junior "C" team, the Simcoe Storm of the Niagara & District Junior C Hockey League. Certain hockey games pertaining to the Simcoe Storm are broadcast on community cable channel 5 during the weekends.
During the 1990s, the arena was given a facelift to look more like Maple Leaf Gardens. Thus, the architecture was re-arranged and the arena received a new coat of paint. Local sponsors (most notably Tim Hortons) have always decorated the scoreboard in addition to the interior of the hockey arena.
External links