For the arena in Prague, Czech Republic which was previously known as T-Mobile Arena, please see Tesla Arena.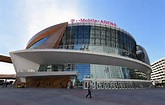 The T-Mobile Arena is a multi-purpose arena located in Las Vegas, Nevada. The facility opened April 6, 2016. The facility seats 17,500 for ice hockey. The facility is co-owned by Anschutz Entertainment Group (which owns the Los Angeles Kings) and MGM Resorts International. The facility cost $375 million (US). During construction the arena was known as the Las Vegas Arena. Naming rights to the facility was announced in January of 2016.
The facility is planned to be the home of a National Hockey League expansion team. The NHL currently has an expansion application from a group planning on playing in the city.
A season ticket drive was started in February of 2015 and reached 5,000 deposits within 36 hours. As of when the expansion application was filed on June 24, 2015, the drive had received 13,200 deposits for season tickets. The ownership of the proposed team would be Bill Foley and the Maloof family (former owners of the Sacramento Kings of the NBA).
The arena will be home to Frozen Fury on October 6th and 7th, 2016 involving the Los Angeles Kings, Colorado Avalanche, and Dallas Stars.
The UNLV Rebels men's basketball program will also play in the new facility.
Other sporting events in the arena are scheduled to include Professional Bull Riders, Ultimate Fighting Championship, WWE, and boxing.