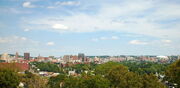 Syracuse is a city in north-central New York, United States.
The city has a population of over 147,000 and the metropolitan area over 730,000.
(Eastern Hockey League, 1967-1973) join North American Hockey League
North American Hockey League  (1973-1977) fold with league
(Metro Junior A Hockey League, 1996-1998) join Ontario Provincial Jr. A Hockey League and add another team in MJAHL, Auburn Jr. Crunch
(Ontario Provincial Jr. A Hockey League, 1998-2005) join Eastern Junior Hockey League as Syracuse Stars
Continental Junior Hockey League (2010-2010) team never plays in Syracuse, moves to Pittsburgh
International Junior Hockey League, 2011-2012) join NSHL
Northern States Hockey League (2012-2014) league renamed NA3HL
(North American 3 Eastern Hockey League, 2014-Present)
International Hockey League (1930-1936) join International-American Hockey League
International-American Hockey League (1936-1940) become Buffalo Bisons (AHL)
American Hockey League (1951-1954) become Springfield Indians again
University Teams
Edit
External Links
Edit
Community content is available under
CC-BY-SA
unless otherwise noted.